Dr. Kruper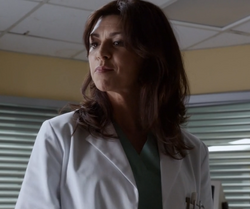 Dr. B. Kruper [1] is a Character in the Finale of DEXTER. She is a physician assigned to Debra Morgan, after she is shot by Oliver Saxon and brought in for recovery.
She arrives in the room while Dexter Morgan is visiting his sister, introducing herself and then checking Debra's stomach. She states that the bullet bounced around a lot in Debra's stomach but didn't hit anything important...feeling that she's "really lucky", while claiming to be optimistic of her recovery. Later on when Dexter returns to the hospital in search of Saxon, he discovers that Debra has been moved out of her room, and finds out from Joey Quinn that she is in surgery where Kruper awaits.
She informs the two that during surgery, a blood clot formed, cutting off the oxygen to her brain for a duration of time, resulting in Debra being left in a vegetative state. Both men are distraught in their own ways, with Quinn emotionally devastated and Dexter fuelled by rage. She tells them how she's sorry, though Dexter only responds by asking if she will recover, whereby Kruper states that it's possible that Debra could start breathing on her own, but based on the brain scans, she won't be able to think, rationalize, or even know that they're there. Quinn states that he's seen miracles, feeling that Debra could pull through this, but Kruper states that it would be a miracle for her to pull through. Dexter backs up staring at Deb laying there, claiming he doesn't believe in miracles as he leaves the area.
References
↑

Episode 812, Medical chart shows a Dr. B Kruper on the first page and the character introduces themselves as a Dr. Kruper