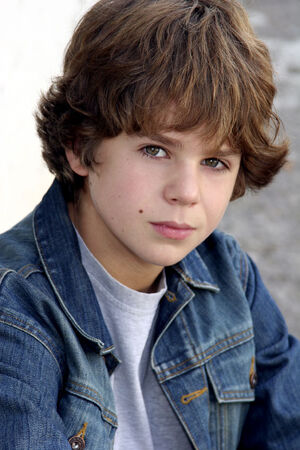 Dominic Janes (born 11 February 1994) is an American actor.
He played the young Dexter Morgan. At this stage in Dexter's life, he was living with the Morgan family.
He is the first child actor to play the character of Dexter, with Maxwell Huckabee playing the three-year-old Dexter that watched his mother get murdered, Nicholas Vigneau playing the seven-year-old Dexter, and Devon Graye playing the teenage Dexter.
Appearances
Career
Janes has had recurring roles on ER and Crossing Jordan. He starred in the film Re-Animated and its spin-off series Out of Jimmy's Head. He landed a role in the 2007 movie Wild Hogs. He voiced Squidboy in the series Wolverine and the X-Men. Janes has also performed improvisation comedy.
Personal Life
Janes was born in Tucson, Arizona. His mother is an attorney and his father is a poet, and he has a brother Ian. His uncle is bassist Joe Preston.
Trivia
He has an iconic mole on his face similar to one on Michael C. Hall's face, although Dominic's is thicker.
Gallery