| | |
| --- | --- |
| | Spoiler warning: This article or section contains key plots and information. Read at your own risk. |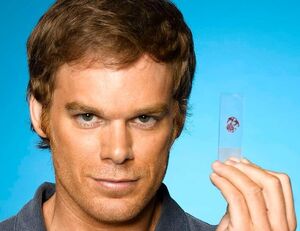 There are notable differences between many of the characters in the original Dexter novels and on Showtime's television adaptation. As can happen with books that become movies or television series, changes were made that influenced the course of the storyline. These changes include major characters' attributes, deaths (or introductions), along with miscellaneous information (such as their names, ages, addresses, relationships, etc.).
Characters in the Novels
Major
Non-Existent
Characters in the TV Series
Major
Dexter Morgan - Dexter's personality differs quite a bit between the TV series and the novels. In the TV series, almost everyone who learns of his secret ultimately dies. Notable exceptions are Lumen Pierce and Hannah McKay.
Debra Morgan - She has relationships with characters nonexistent in the novels. In the TV series, Debra Morgan eventually dies while, in the novels, Deborah remains very much alive.
Maria LaGuerta - Instead of being called Migdia, the creators of the show decided to name her Maria. On television, she is often seen as harsh but, at times, will reveal that she has a heart despite her unrelenting political game.
Non-Existent