Diego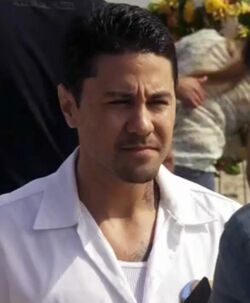 Character Profile
Portrayed By
Justin Huen
First Appearance
Once Upon a Time...
Last Appearance
Sin of Omission
Character
Full Name
Diego



Status
Alive



Characteristics
Age
20s to 30s
Gender
Male
Eyes
Brown
Hair
Black
Personal Status
Marital Status
Single



Professional Status
Profession
Mechanic
Ex-con
Diego
is a character in '''
DEXTER'''
. He is an ex-convict who now works as a mechanic in
Brother Sam'
s body shop.
Description
History
Deigo appears alongside Brother Sam in Season Six.
Season Six
As Dexter Morgan begins his investigation of Brother Sam, he goes by the body shop after faking an incident with his vehicle thus resulting in damage on the back bumper. Diego comes up to him asking if he's Eddie's parole officer and Dexter clears it up and asks for Brother Sam. He meets with Sam and works on an estimate while also learning a bit about him, when suddenly one of Sam's workers informs him that Nick hasn't shown up for work again and Sam tells the worker to call Nick and say that he's coming for him.
When Brother Sam is shot by an intruder Diego gives a speech to all the co-workers to have faith. Then he along with Dexter and the other ex-cons go to Brother Sam's room when he wakes up. Dexter asks Diego if that's good and he repiles by saying that sometimes waking up is a warning that he is going to die and later tells him Sam is asking for him.
Later, at Brother Sam's funeral, Diego gives a eulogy about Brother Sam on the same beach where Nick was baptized and killed. Afterwards he dumps Brother Sam's ashes in the ocean and lets him drift off to sea. Then Diego goes to see Dexter and tells him that Brother Sam wanted him to have his bible. Dexter tried to explain that he wasn't into religion like Sam but Diego said Brother Sam felt Dexter needed it more than he did. Then he asks if he's seen Nick to which Dexter replies "No."