For info on Plot for Each Season, refer to the respective Tabs
| | |
| --- | --- |
| | Spoiler warning: This article or section contains key plots and information. Read at your own risk. |
Dexter Morgan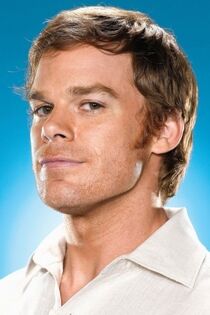 "People fake a lot of human interactions, but I feel like I fake them all, and I fake them very well."
Killer Profile
"The Bay Harbor Butcher"
Active
Number of Victims
125 (directly)
At least 14 (indirectly)
Modus Operandi
Tools/Weapons
Large knife
Etorphine (M99)
Garrotting Wire
Surgical Tools
Pistol
Hunting Knife
Killing Method
Sedates With M99
Ties Down With Shrink Wrap
Typically Stab To Heart
Method of Disposal
Bodies are sliced into pieces then in a bio-degradable bag dumped in the Gulf Stream.
Cause
Dexter (along with his brother Brian) witnessed the brutal murder of their mother in a cargo container at a very early age. After seeing Laura Moser chainsawed to pieces, they were then left in the cargo container for three days.
Dexter Morgan is the main protagonist and titular character of both Showtime's Dexter and the Dexter Book Series. Dexter is a serial killer who targets other killers (to control his Dark Passenger) rather than harm innocent people. By day, he is a forensic blood spatter analyst with the Miami Metro Police Department, working within Miami Metro Homicide closely with the detectives and other forensic specialists such as Vince Masuka and more recently, Ryan Chambers and later Louis Greene. He is the biological son of Laura Moser and Joe Driscoll and the biological brother of Brian Moser, also known as the Ice Truck Killer.
Dexter was the husband of Rita Bennett (who is the mother of his child), the adoptive brother of Lieutenant Debra Morgan, and the adoptive son of Doris Morgan and Harry Morgan, the police detective who taught him to survive using the "Code of Harry". He is also the father of Harrison Morgan and the step-father of Astor Bennett and Cody Bennett. Dexter has developed a detailed method of killing that has allowed him to evade detection while also disposing of any potential evidence (including the body itself) by use of stream currents heading north through the country.
Dexter was the true Bay Harbor Butcher, although Sergeant James Doakes was framed for the crimes and apparently the legend died with him. The name never personally stuck with Dexter and he hasn't referred to himself by the title since the end of Season Two except for one instance of inner monologue in the Season Six episode Ricochet Rabbit. Of interest, his brother the Ice Truck Killer receives far more mention than the Bay Harbor Butcher despite other characters claiming that the Butcher made the Ice Truck Killer's work look like child's play. Previously, the last characters to even reference the Bay Harbor Butcher investigation were Miguel Prado and Maria LaGuerta in conversation. However, Ryan Chambers mentioned both the Bay Harbor Butcher and The Trinity Killer in her interest of the cases. It turns out that both are actually in the hands of the FBI, so Miami Metro Homicide has little to no information that is still in their hands.
Dexter is estimated to have killed around 100 people. With his first Blood Slide Box having 46 slides and his new one 43 slides, and taking into account the known kills he has not taken blood from, and the one blood slide he broke, this totals up to 125 confirmed kills. This makes him the second most prolific serial killer in the series (by kill count, by survival he is the first) behind Arthur Mitchell (aka The Trinity Killer) who has been killing for over 30 years, with a kill count ranging over 200 kills. His brother, Brian Moser, has over 11 to 15 confirmed kills but likely killed many more individuals.
AppearanceEdit
Dexter is a white male (with a tan) in his early 40's with light auburn hair and green eyes. He's seen as an attractive man with a perfected face, with his hair altering based on the passage of time (it was at its shortest during Seasons 1 and 2, growing longer throughout Seasons 3 through 5). There are also a few beauty marks here and there. In Season 6 his hair has shortened and Dexter appears a bit more "tired" looking than usual...with each episode comparing the current Dexter to how he was in earlier Seasons, it may be something that the real life Michael C. Hall is having to deal with in his remission.
His body
Dexter is extremely fit. Just between his body and arm on his left side is a long scar, that he received as a child...as well as another scar on the shoulder of his right arm. Dexter maintains routine exercise, though only shown periodically through the series he can be seen jogging on treadmills, using stationary bikes, and various other activities. Keeping himself in shape is important for two reasons: one, to maintain his face personality for everyone around him as an everyday guy. Two, to enable him to overpower most of his victims which are otherwise weaker than himself. He has to do a lot of dragging, lifting, and even body part moving in his other work so it's necessary to have a structured athletic physique, especially if he needs to chase someone (think Lumen Pierce or Lance Robinson).
His normal clothes
Dexter, both in the novels and on the television show, is partial to the Cuban style of either khakis or light-colored linen trousers and either Rayon or linen guayabera, or (Mexican Wedding Shirt). In later seasons of the television series, he made the switch to the simple t-shirt being his preferred top.
His hunting clothesEdit
Dexter wears a military-inspired green (the manufacturer simply calls it "Army Green") colored 4-button Henley manufactured by American Apparel. He also wears brown cargo pants and something similar to WWII paratrooper jump boots.
Kill AttireEdit
The true kill clothes consists of a dark-colored apron, probably made of some thick material such as rubber. He also wears dark gloves and rain boots that match this, suggesting that he has his own pair of PPE (Personal Protective Equipment) to use at his disposal, as well as a visor to protect himself from the blood. At most times, it appears that he wears his Hunting Clothes underneath his PPE but may trade in for other items. A few times he has had to improvise, one of the most infamous is when he wore a yellow "Natural Born Griller" apron with yellow dish-gloves and just whatever shirt he had on at the time. He even wore (if only temporarily) the Mascot Panther Head for his high school during his stalked kill at his own high school reunion, if just to complete the effect.
At the start of the series when he killed Jamie Jaworski, Dexter wrapped his head in shrink wrap but left his mouth and eyes visible. The television series left the reason for this unclear, leaving it open to debate. It could have been symbolic "bondage" as Jaworski raped his victims violently. However, the scene is consistent with the same kill in the first Dexter book, Darkly Dreaming Dexter. The book explains that though the victim was researched and selected as normal for Dexter, the kill itself at the construction site was on impulse. Dexter experienced an urge to kill that was so strong it overpowered his otherwise careful and calculating methods. The plastic wrap was what he found on hand to use in place of his visor. Dexter had to leave Jaworski's body behind when the police suddenly arrived at the scene. This suggests a vulnerability on Dexter's part subjecting him to getting caught that has been stressed more in the books than in the television series.
Starting in season 5, Dexter is not shown wearing the visor, but he has worn it for messier kills, such as the kill of Julio Benes. As well as this, he had planned to wear it during his attempted kill of Hector Estrada, as he would be using a chainsaw to kill him. Even before season 5, there were occasions when Dexter would not wear his visor, such as when he killed Zoey Kruger and when he killed Roger Hicks.
PersonalityEdit
"My name is Dexter. Dexter Morgan. I don't know what made me the way I am, but whatever it was left a...hollow place inside. People fake a lot of human interactions but I feel like I've faked them all and I fake them very well. And that's my burden, I guess."
Dexter considers himself emotionally divorced from the rest of humanity; in his narration, he often refers to "humans" as if he is not one of them. Dexter makes frequent references to an internal feeling of emptiness, leading to many youthful attempts to "feel alive" (this was used more in the shows than the books). Dexter claims to have no feelings or conscience and that all of his emotional responses are part of a well-rehearsed act to conceal his true nature. He has no interest in romance or sex and he considers his relationship with Rita to be part of his "disguise." In the show he shows considerably more attachment and fondness for Rita than in the books. For example, in the first season he is afraid to have sex with her because he might lose her as a result; in the books he seems to view her more as a pet.
There are kinks in Dexter's emotional armor, however, He acknowledges loyalty to family, particularly his dead adoptive father: "If I were capable of love, how I would have loved Harry." Since Harry's death, Dexter's only family is his sister, Debra Morgan, Harry's biological daughter. At the end of the first novel, Dexter admits that he cannot hurt Debra (and in an episode comically repeats in his head "I will not kill my sister" as she leaves his apartment a complete disaster when living with him) or allow Brian to harm her because he is "fond of her." He also appears to care more for Rita than he admits.
Dexter likes children, finding them to be much more interesting than their parents. The flip side of this affection is that Dexter is particularly wrathful when his victims prey on children. In Dearly Devoted Dexter, Dexter realizes that Rita's son Cody is showing the same signs of sociopathology as Dexter himself did at that age, and looks forward to providing the boy with "guidance" similar to that which Harry provided him; in his way, he sees Cody as his own son.
This also gives him a reason to continue his relationship with Rita who, as of Dearly Devoted Dexter, he is engaged to because of a misunderstanding. In the beginning of the third book, it has been shown that Cody is not the only one with dark impulses, as both children pressure Dexter to teach them. Dexter has come to accept his role as stepfather to both children very seriously in Dexter in the Dark, albeit in his typical fashion. For example, while on a stakeout, he begins to wonder if Cody had brushed his teeth before bed and if Astor had set out her Easter dress for photo-day at her school. These thoughts distract him while he is waiting for an intended victim, which thoroughly annoys him.
Animals don't like Dexter, which can cause noise problems when Dexter stalks a victim who has pets. He is quoted as having a next door neighbor with a dog who barks and growls at Dexter until he is forced to get rid of it, and a turtle, which hides in its shell until it dies of starvation rather than have to deal with Dexter. Cats on the other hand, as hunters themselves and creatures loyal only to themselves, are unfazed by him. Mary the Nurse's cat is an example.
Dexter's personality is ever-changing, now adopting a somewhat uncertain and almost "Code-less" lifestyle. His evidence has been left behind, due to some important events which had sometimes put him in dangerous situations at times. Harry has appeared a lot less frequently, almost vanishing completely after the fourth episode in Season 5. Instead he spends his time thinking to himself and about Lumen...whom he is beginning to trust enough to allow her into his life with his son and now to allow her to kill with him. Even Miguel Prado did not know as much about Dexter that Lumen is delving into, thus suggesting he fully trusts her (at least more than Miguel) and is easily willing to allow her to build a kill room with him. Dexter displays his ultimate trust in Lumen by allowing her to kill Alex Tilden.
Dexter's favorite sport is hockey, which he was introduced to by Rita, who had season tickets to the Panthers. He believes he likes it because they play in a cool chilly arena, in addition to the frantic homicidal mayhem on ice with blades and fighting sticks. He is rather not impressed by golf, but would watch it if it were played in the cool chilly arena.[1]
Religious points of viewEdit
"If I believed in God; if I believed in Sin, this is the place where I would be sucked straight to Hell. If I believed in Hell..."
Dexter, as far as religion goes, doesn't understand it. He personally never has believed in a higher power, apart from the guidance from his father Harry Morgan and throughout the seasons he's hinted at his religious preference as being mostly atheist. It's not that he has any problem with those that follow religion, it's just that he doesn't actually believe in their existence and as Season Six rolls around, he clarifies that his belief was mainly in Science. However, with the recent events popping up more and more of his faith in something else has been tested. The season's focus on religion has put him in an awkward position, meeting various characters from Brother Sam to Travis Marshall and all the followers of different beliefs in Christianity as a whole. He seeks to pass religion on to Harrison his son but has no real experience with it himself.
Dexter's faith has been tested on multiple occasions yet he never really calls out to a spiritual deity for assistance. He mostly finds it in himself to get out of situations, because these are things that are left within his hands to fix. The problem is when he is faced with something that cannot be fixed by his own intervention, such as his son Harrison being put into surgery for a burst appendix. In two instances in this situation Dexter actually prayed to God, as he was on the verge of a breakdown at a snack machine for his son to make it through promising he'd do whatever to make sure he would be alright. Then after news of his son's successful recovery, he said "Thank God" which Brother Sam caught onto. He plays it off after this point but it could be that part of Dexter is becoming a believer, especially with the miracle of his son's recovery.
Recent events bring religion into Dexter's life, confronting various individuals with their own outlook on spirituality. Seeing that he needs something structured to pass on to his child, he pursues religion...encounters those who know little to nothing about it such as Joe Walker, those that are so obsessed with it that they're willing to kill such as Professor Gellar, a man trapped between his beliefs and his own personality in Travis Marshall and finally a man who found God but stays a normal functional man in Brother Sam.
Relationship with his sonEdit
Dexter's most important relationship now is with his son, Harrison Morgan. Having grown up within a life of killing those that deserve it, Dexter has decided that he wishes to not pass this on to his child and adopts showing him only the "human" side that everyone else is experiencing. Dexter hasn't convinced himself yet that the human side he still views as a mask in reality is closer to what he truly is: the fact of being human. Once a man who faked every emotion down to a simple smile, he has evolved into someone who cares for his family and friends while accepting the responsibility of caring for his child as a single parent. In this light, he doesn't realize that a majority of who he is now is in fact a regular guy with just a dark secret, rather than faking to be a regular guy who is actually just a very dark monster.
Prior to Harrison's birth, Dexter gave little thought to children other than taking care of Rita's and being their friend. As time passed and he grew more in other areas, he found himself caring deeply for both Cody and Astor and they looked at him as their new father figure with Paul Bennett now deceased himself. After fixing his relationship with Rita, he soon finds out about her pregnancy and his reaction throughout the season are mixed. Originally hopeful that something would happen to the baby during a complication with the pregnancy, new faith in the child formed towards the end of the Season and ultimately he accepted that his child would come into the world.
Once Harrison was born, Dexter stepped up to his duty as a father and watched over him in trade with his wife Rita. While the focus now was how Dexter would survive for the years to come with his new family and sought the answers in Arthur Mitchell, there was some insight into his relationship with baby Harrison. Mostly he fed him bottles, watched over him and played with him though he mostly remained in the background or as a subtle plot device for humor until the very end where Rita was found murdered and Harrison sat out in her blood, crying his eyes out. Dexter lost the ability to stand and went to the floor, scooping up Harrison as he dealt with the tragedy of Rita's death as well as finding his own son in the exact same position he had been in his early years.
Following Rita's murder, Dexter was heavily concerned with whether or not Harrison would evolve like he did. In that sense, would the tragedy create a Dark Passenger of Harrison's that would make him kill and several signs throughout Season Five illustrated this from removing a dolls head, disturbing looks and even words such as "die die". He however proved himself a capable parent in handling his life while also playing father to just Harrison (as Astor and Cody went to stay with their grandparents) and had the nanny Sonya watch over him in times where Dexter had to take care of his own Dark Passenger. So far, it appears that Harrison was far too young for any of this to affect him and rather he'd grow up a normal healthy boy.
Recently Dexter's spent a year playing father while also dealing with numerous victims, his previous Nanny has vanished and in her place the younger Jamie Batista to watch over him. Dexter now intends to focus passing something structured onto Harrison and seeks learning about religion, meeting many characters that can help him understand it better. Unfortunately Harrison's appendix ruptures and his life is put on the line, leaving Dexter the most vulnerable he's ever been. He sits in worry though thanks to his conversation with Brother Sam, he is kept occupied and even asks God for assistance in his child's recovery. Thankfully Harrison ends up just fine and as happy as a two year old can be.
Perhaps the most important aspect of Dexter is his Dark Passenger, which is a psychological manifestation of his inner thinking and what represents his urge to kill. The need to kill is stemmed from watching his own mother Laura Moser chainsawed into pieces in front of him and his brother Brian Moser when they were young. Since then, something inside of him "changed"...he needs to kill and if he doesn't kill for a duration of time his life becomes unstable, the rest of his personality representing what could be similar to "withdrawal syndrome".
His father Harry Morgan realized this in his son and helped channel it, to both protect Dexter from ever being caught and to forge him into sort of a weapon for personal justice. Due to this, the Code of Harry was established which allows Dexter to blend in, choose the right victims and most importantly...not get caught.
The code's rules are many however the number one rule in all situations is "Don't Get Caught" and that's why all the other rules are in place. According to Harry, if he is caught chances are he will be executed likely through an electric chair so the code is required to keep Dexter out of that situation. The other rules of the code include never taking the life of an innocent and being certain of their guilt...Harry intended that Dexter never harm a good person and to focus it simply on the bad people in the world.
To date, Dexter has accepted the Code in one fashion or the other...he morphed it into his own Code by allowing various exceptions but sticking to a principal of never harming an innocent life due to his moral understanding that they don't deserve it.
The urge itself is strong and needs to be satisfied nearly monthly if frequent kills are not made in between. Somewhat like an immense hunger Dexter craves a hunt searching for worthy prey to place on his table and everything is needed to truly satisfy the "passenger".
When Dexter has caught his prey, his personality is allowed to flow freely with the only people he can truly be honest with: those on his table. He's often energetic in these encounters, smiling and laughing while questioning his prey's morals and why they do what they do. Dexter originally believes that he cares little for the people around him but as he has developed as a character, the acts caused by his criminals are very personal...he appears to downright hate the evil in killers that target the innocent (especially children) and takes great pride in wiping them clean from the earth.
His Dark Passenger however would feel satisfied with an innocent or anyone else, so much that due to Dexter's psychological delusions he begins to imagine his deceased brother Brian Moser as a true representation of his more inhuman feelings. Brian doesn't care who it is, he just wants a kill...so much that it forgoes the essentials to the code such as being certain of his victim and whether or not they're innocent.[2]
According to Brian in this phase, the true reason Dexter kills his victims isn't to wipe clean the evil from humanity but to watch the light go out of their eyes[3]. Basically, when a person is on the verge of death their eyes begin to fade in color as they reach death and this is often referred to as the "light going out". This truth is evidenced in multiple victims where he stares into their eyes as he stabs them and since Brian is a representation at this point of Dexter's internal feelings, he truly does have a love for watching that light vanish. Thanks to Dexter's personality however it is only channeled on the guilty but the most recent kill that can be attributed to watching the light vanish is Alberto, when he was stabbed with a harpoon Dexter takes a moment to stare directly into his face where the light would vanish and then tosses him overboard.[4]
Loving RelationshipsEdit
Rita Bennett
Lila West
Lumen Pierce
Hannah McKay
NarrationEdit
Dexter is the only character in the show whose thoughts can be heard by the viewer.
Dexter often talks in his head, sharing with the audience his point of view as a serial killer while pretending to be normal to the exterior. His comments usually include personal philosophy, dark humor and killing plans. It should be noted that, unlike the past narration in the books, Dexter narrates at the present tense in the show. This means that he is telling only what he is living at the moment, and cannot predict what is going to happen next. His narrating also does not focus on secondary characters (as Deb, Angel or Quinn) as he is not aware of their private lives' details.
On a few occasions, Dexter broke the fourth wall and talked directly to the audience. In the first episode he mentally introduces himself. In the season six opening, when a young woman is shown in his apartment, he (mentally again) comments "it's not what you think".
In earlier seasons, Dexter had more of a comical style to the way he referred to various situations.
People Who Know His Secret
Edit
James Doakes- Uses his detective skills to follow evidence to Dexter being the Bay Harbor Butcher searches his apartment and finds his box of blood slides and when he goes to another country to have the slides tested Dexter has the whole blame but onto Doakes and when Doakes gets back Dexter puts him out in a cabin where Dexter then proceeds to kill a drug dealer and Doakes has his full proof that Dexter really is the Bay Harbor Butcher. (Pieces it together through all of Season 2)
Debra Morgan- Finds out in the finale of season 6 (episode 12) when she walks in on Dexter killing the Doomsday Killer on his kill table at the church and finds out the whole truth when she starts peicing together her last time with the Ice Truck Killer while she was on a kill table and with what she saw at the church, she then searches Dexter's apartment and finds his blood slides and knives and when Dexter walks in to his apartment he has no choice but to tell Deb the whole truth.
Lumen Pierce-Watches Dexter kill Boyd Fowler at Boyd's house in Season 5 episode 3 and through the episode Dexter tells her what he is and she helps take down the Group
Lila West-Figures his secret out when she goes to the cabin were Dexter was keeping Doakes and Doakes tells her the what Dexter does but Lila is crazy and kills Doakes so she can protect Dexter's secret (Season 2 episode 12) .
Hannah McKay- Dexter had her on his kill table but he couldn't go through with the kill and after he cuts the plastic they end up having sex on the kill table instead and when they're done she asks why he was going to kill her and he tells her he kills bad people. (Season 7 epidsode 6 and Season 7 episode 7)
Isaak Sirko- figures in out on his own when he traces Kaja Soroka's tracking bracelet's last signal to Dexters boat, considering this was the bracelet Viktor had with him before he disappeared. Isaak assumes that Dexter was the one who killed him and later discovers that he was a killer of many other murderers. This knowledge was passed on to George Novikov, Jurg Yeliashkevych, and Benjamin Caffrey.( Season 7 episode 3 and Season 7 episode 8)
Maria LaGuerta- After Maria starts investigating the Bay Harbor Butcher again, she begins to suspect Dexter. Dexter eventually realises she will get evidence so he attempts to set up a murder scene but Maria wakes up and sees him with a knife before being shot by Debra Morgan.
ADA Miguel Prado
Dexter is highly intelligent and has mastered a wide array of skills to supplement his forensic expertise. He's an excellent manipulator despite his lack of human empathy, a practised liar, cold reader, burglar, assassin, hunter, actor, forger and digital tracker, all necessary to maintain his double life and keep one step ahead of the Department. Seargent Doakes notes that he was in the top of his class in medical school, and found it curious that Dexter would settle for a job so far beneath his abilities. Mike Anderson judges him to be an exceptionally good deductive analyst, and expresses pretty much the same thing.
Throughout the show Dexter also demonstrates circumstancial knowledge on various topics including history, anthropology, psychology, philosophy, architecture, sociology, economics, religious lore, literature, art, law and criminology.
He speaks excellent Spanish and posseses a large vocabulary in English but has yet to demonstrate fluency in other languages.
Physical Ability
Edit
Dexter's physical ability is an important part of keeping up with his nightly activities. It is probable that due to the sloppy struggle he had with Mary, becoming more physically capable of subduing his victims would be a requirement for his own survival and utmost benefit in following the first rule of the Code - don't get caught.
Daily Exercise
Edit
Dexter's cardio is a major factor in his personal upkeep: he has to be ready to run, endure, and retain energy when taking in victims. In the event that he has to chase a victim, he has to be able to keep up with them without tiring. If in a fight, he has to be able to take hits and return with ease. His energy is the most important part here meaning he can a long period of time doing various things from chasing, subduing, transferring, disposing of victims...the list goes on.
He often comments on his cardio stating that "the voices in my head get quieter until it's just me, my breathe and my feet on the sand". He's rather relaxed when running, using a treadmill in his home located in what appears to be his bedroom. Considering his muscle size and abdominal shape, he likely incorporates crunches and weight lifting along with push ups to guarantee a rounded out exercise to keep his body in tip-top condition.
Dexter's diet is consistently healthy, with balanced examples of protein and other vitamins shown across the different meals he eats. This also appeals to his energy and stamina, eating healthy foods that he enjoys. Apart from some select sweets such as donuts and on one occasion Oreo Cookies, Dexter stays away from junk food and fast-food chains.
The following is a list of food/beverage items he has consumed:
Donuts (often purchased at Sadie's Donuts).
T-Bone Steaks
Beer
Eggs
Bacon
Blood Oranges
Bananas
Pulled Pork Sandwiches
Icecream Cone
The skill became necessary following a difficult struggle with Mary, for if he couldn't easily subdue someone like her how would he even have a chance against someone like Little Chino, Jordan Chase or even James Doakes? In reality for Dexter to succeed in becoming a successful Serial killer and avoid putting his own life in danger, he needed to learn how to fight opponents above their level.
Martial Arts
Edit
Later on in his college years, he studied advanced Jujitsu techniques to aid in learning how to fight opponents. Through years of experience (and likely a few close calls), he's a master at hand-to-hand CQC (close-quarters-combat) and on more than one occasion has been able to out-maneuver and defeat other experienced combatants.
His training in Jujutsu allows him to quickly subdue most targets with just a few quick movements, mostly trailing directly into a rear naked choke hold(this technique cuts off blood flow to the brain via the carotid arteries, causing temporary unconsciousness in a few seconds). While not often, he has also broken bones and even necks if the situation calls for a quick execution.[5] He displays amazing agility in combat, with his quick movements often leaving his opponents swinging at air while he moves in for an attack that controls them almost effortlessly.
If his opponent is using a weapon, he's able to disarm them before they can do any real damage. He was even capable of fighting, disarming, and defeating an ex-United States Army Special Forces soldier (Sergeant James Doakes) who held him at gunpoint while Dexter was in handcuffs (however, Doakes fired a shot that pierced Dexter's thigh).[6]
Only two people have actually beaten Dexter in a fight. The first was Travis Marshall, who took advantage of his poison-induced disorientation and injected him with his own animal tranquilizer. The second was Ray Speltzer; Dexter was knocked unconscious and awoke in a maze designed by Speltzer in order to chase his victims around before killing them.
Strategic Thinking
Edit
While being capable of taking on opponents, he never rushes a battle to leave room for his own mistakes. His style relies on counter-offensive, allowing his opponents to strike first then exploiting a weak or blind spot to take advantage of them quickly. He never lets a fight last more than a few seconds, to insure that his victim has no chance of turning the tide of battle in their favor.
Dexter is usually fond of his animal tranquilizer or also known as m99 to disable his opponent so he can strap them to his table. However when he doesn't have his m99 or he is challanged with it as shown with Zoey Kruger is season 4 he has to rely on his strategic thinking, which results in him putting the m99 in his mouth and fighting Zoey until he has her in a position to inject the m99.
In most instances, he will adopt stealth and sneak attacks opposed to direct confrontation. He often stalks his targets from the shadows and disposes of them with minimum effort due to quiet steps and quick movements. He will take advantage of any opportunity laying around for him, from using the environment to even sneaking a weapon on him to exploit a weakness (such as stabbing one's foot [7].
Dexter is also skilled at manipulating situations to hurt people without actually attacking them. When Doakes starts really going after him, Dexter first starts making Doakes look bad at his job. First, Dexter give him incorrect information, which causes Doakes to arrest and hold for interrogation an innocent man, then puts a lab report on Doakes' desk and tells LaGuerta he had delivered it days earlier. This causes LaGuerta to question Doakes' judgement. Later, Dexter headbutts Doakes in the privacy of the lab, then quickly walks out to the main office area to talk to Debra; enraged, Doakes follows him and starts to attack him publicly in front of everybody while Dexter feigns helplessness and fear, causing Doakes to be fired on the spot. Later, when Louis Greene starts harassing him, Dexter arranges for him to get fired as well while appearing to be innocent to everybody else.
Marksmanship
Edit
In his early days training with his father Harry Morgan, he can be seen at a gun range making accurate shots with various weapons. In addition he used to hunt with rifles and was capable of hitting deer relatively easily. While Dexter prefers to not use firearms in his adult years, he is a capable marksman that can fire a handgun with precision. His only known use of a gun (in his adult life) was when Esteban and Teo Famosa had Sergeant James Doakes as a hostage and after killing Esteban, he worked with Doakes to fire a pinpoint shot that pierced Teo's heart killing him instantly.
List of Close-Combat Confrontations
Edit
The following is a list of situations where Dexter was forced to subdue a victim or opponent outside of his regular stealthy approach.
Dexter uses a quick sleeper hold on Emmett Meridian as he attempts to walk away, putting him to sleep in a matter of seconds.[8]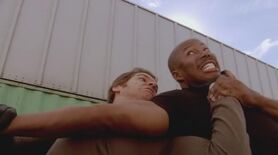 The first real sign of Dexter's Jujutsu training is in a small fight with Sergeant James Doakes at the Shipping Yard where he was tracking a theory on where Rudy Cooper took his sister Debra Morgan. After Dexter tries to spin a lie on him being in the shipping yard, Doakes punches him squarely in the gut and readies himself to throw a right punch only to have Dexter dodge out of the way, grabbing Doakes's fist. He aligns himself so that Doakes's arm is planted, outstretched across Dexter's chest and with his free hand, he plants it in a choke hold around his opponent's neck. Doakes tries to use his other hand to pull off Dexter's grip, but is unsuccessful...the two flying back into the shipping container with Dexter tightening his hold leaving Doakes completely immobile. The two become more violent but a nearby worker forces the two to break off the fight. [9]

This is the first clear sign that Dexter is capable of handling someone who is physically rather strong by using his quick reflexes and agility to turn their offense into a weakness, manipulating their body into where they're unable to move and put them in a compromising position.

Brian Moser, Dexter's older brother, attempts to separate his younger sibling from the bonds to his foster family by killing Debra Morgan. He tries to get Dexter to do it willingly at first, then forces his hand with the blade down in Deb's direction. Dexter quickly brings his arm out to stop their arms in motion. Dexter then proceeds to push Brian back using his right arm against the wall via his chest, then slams Brian's arm against the wall to force the knife out of his grip. Brian however turns the tables on Dexter in this struggle, putting his brother into a elbow lock as the two spin around the room before they slam into a wall. Breaking out of the lock, Brian then knees his brother in the face and throws him to the ground in an attempt to escape.[10]

This is an example of Dexter using his momentum to force his opponent against a wall then proceeds to disarm him immediately afterwards. However, likely due to being emotionally indebted in this situation he loses his advantage and Brian takes the upper hand, first elbow locking his brother's head and then kneeing him in the face. A rare occasion for Dexter.
The following are not technically displays of his fighting abilities though still show him overpowering a character one way or another.
When he first intends to kill Jeremy Downs he is able to sneak up on him relatively quickly and force him against a wall with his strength. He then holds him by the neck claiming he could snap his neck. [11]
After consistently dealing with Paul Bennett's bothersome meddling in his and Rita's life, Dexter becomes emotionally involved as Paul continues to persist on irritating Dexter. This results in him being knocked out by a frying pan.[12]
Early LifeEdit
See Main Article:Dexter Morgan Early Life
Childhood as Dexter MoserEdit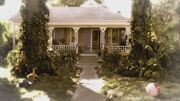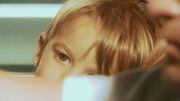 Dexter was born Dexter Moser on February 1st, 1971[13], only a couple years after Brian Moser by parents Laura Moser and Joseph Driscoll. He lived most of his infantile life with his elder brother at the address 1235 Mangrove Drive in Miami, Florida, confirmed via two arrest records for his mother in 1969 and then in 1971 for drug possession. Dexter lived primarily at this address, however he did spend some of his time with his father, Joe Driscoll, at the address 5570 (unknown street) in Dade City, Florida. It's unknown the exact relationship between Joe and his other son Brian, but considering the turnout over 30 years later it would be suggested that it was strained.
Unfortunately Dexter's mother was a drug addict (likely entering the trade when her boyfriend at the time, Joe Driscoll, returned from the Vietnam War and started becoming an addict himself), this never affected her love for her boys but it put her at high risk with certain parties. She met Detective Harry Morgan and began acting as his informant in the Estrada cartel, trying to provide intel that would help bring down the drug kingpin.
On Wednesday October 3rd, 1973 Laura Moser, her two sons Dexter and Brian, as well as three other drug users were hurdled into the shipping container CBAN 348 9 by Estrada's henchmen: Santos Jimenez, Lipsey and Welsh. It is believed that just Santos wielded the chainsaw, as the other two are often seen likely standing there to prevent anyone from escaping.
The three unnamed victims were all slain by the chainsaw, leaving Laura Moser for last begging them not to do this in front of her baby. She screamed and cried as they revved the chainsaw, turning then to give a final smile to Dexter. She said to close his eyes, not to look and that she loved him before Santos finally cut into her, killing Laura in front of both of her sons with no remorse.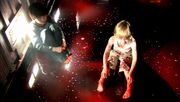 Santos and his comrades fled the area while Dexter and Brian sat there, for two entire days sitting in blood that would forever change both boys. Brian, who was older, would always remember this experience but Dexter was shut down emotionally for the next 30 years he wouldn't know how to be human anymore. A happy childhood ended in tragedy, to create two boys who would grow up to be serial killers. Only one of them, however, was given the means to control and focus these urges thanks to the first man on scene, Harry Morgan.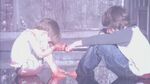 Detective Morgan opened the shipping container door, startled by the absolute carnage inside. He spotted the two children however and moved in to pick up the younger, Dexter. As Harry was picking up Dexter, he held on tightly to his brother's hand before it slipped from his grasp and both boys called out to one another. Harry looked Brian in the eyes and saw (what Brian later claimed in his adult years) "a fucked up kid", rather than taking him as well he left the container while Brian screamed "please don't leave me Dexter!".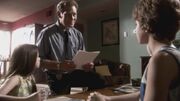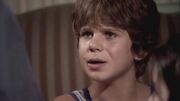 While Dexter was taken in at the age of 3, apparently he wasn't officially adopted until roughly the age of 7. His foster father Harry Morgan arrived one day while he was playing with his younger foster sister Debra Morgan to present him with a birth certificate that declared him a Morgan. Dexter looked at it with an expression of confusion, saying that he thought he was already a Morgan. Harry smiled and assured him that to them, Dexter was always a Morgan but now it's finally official.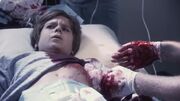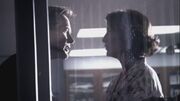 Abdomen InjuryEdit
Dexter injures himself later on when trying to go after Debra's ball that she lost. As Dexter climbs a fence to get the ball, a dog chased after him and forced Dexter to fall on a rod-iron post thus causing a large cut in on the side of his abdomen (which can be seen as a scar on the adult Dexter Morgan, something that Cody Bennett asks about). He's rushed to the emergency room where his pressure is dropping fast from 80 and is in a serious condition. Debra stands on distraught and worried for her brother, while Harry goes to talk with the doctor on how they can fix this. The doctor says there is a problem with the blood type, as he has internal bleeding they need donation from his very rare type in order to help save his life and this leads Doris to arguing with Harry on a way to help his son. Harry seems evasive at first, because that means tracking down Joe Driscoll but for the sake of his boy, he ultimately decides to track him down. Dexter watches on, remembering this moment as it would become important later in life for a realization his true biological parents.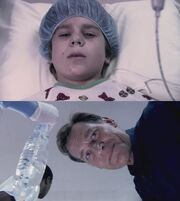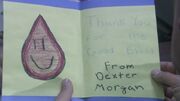 Harry successfully tracks down Joe and in hearing of his son's life-threatening situation, offers his blood so that Dexter may survive. A successful transfusion shows Dexter recovering from surgery, confused on where he was only to hear a doctor say that someone was generous enough to provide what he needed. Harry stands on and asks to speak with his son, saying that he'll be just fine. Dexter asks if he will be and Harry says (which is ironic in the end) "Would I lie to you?".
First sign of a killerEdit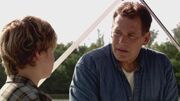 Dexter's murderous urges began taking shape when he was ten and it was Debra who saw it first, but didn't realize it. Dexter had taken apart each of Deb's dolls and tried to tell her mother and father. Dexter begged her not to and promised to put them back together. She however added that he had to play with her in order to keep the secret, which Dexter did. One day while on the family boat, Harry Morgan asks his son if he's different. Dexter doesn't know what that means at first, but learns soon that Harry found out about the neighbor's dog Buddy, who Dexter had buried along with several other small animals. Dexter tells his father that he was a "noisy little creep" who barked so much that it kept his ill mother Doris Morgan up all night. Harry looked at him and said there were a lot more bones there instead of just Buddy's, something that Dexter looks down at the boat's floor feeling ashamed. Harry then asks him if he ever wanted to kill something bigger than a dog, like a person and Dexter agrees that he has just no one in particular. When asked why he hasn't tried, Dexter says that he thought his father and mother wouldn't like it. Harry becomes a little teary eyed and hugs his son, likely at this point in time wanting to shield him from ever needing to kill someone. This would of course change later in his life as he witnessed the loss of so much life and the freedom of murderers...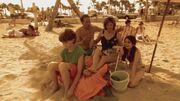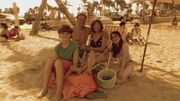 Dexter unfortunately misinterprets the full meaning of blending in and focuses more on "fitting in", even if that means becoming a bully to a poor boy named Simon. During a soccer game, Dexter as well as several other boys steal the shirt Simon is wearing and plays a game of "Keep Away" from him by tossing it between themselves while Simon attempts to grab it. Eventually when the shirt is in Dexter's possession, Harry grabs Dexter's arm and asks what's going on. He tosses the shirt back to Simon so they can continue their game and he asks Dexter what he was doing, Dexter replies by saying he was "fitting in". Harry sighs and says that he shouldn't be a bully, that it's wrong and that people like himself remember bullies...a first step to felony in his future. He then asks Dexter what he should do and he replies by saying "blend in", which means to be a team member not a bully, not a hero. He lets Dexter return to the game after this, smiling as he's proud that his son understood him this time.
Early AdulthoodEdit
When Dexter was 21, Harry fell ill of coronary artery disease and was confined to a hospital in which Harry spots a nurse, called Mary, who kills people by overdosing them on morphine, whereby Harry gives Dexter his "permission" to kill her which would turn out to be his first kill. Here he embedded several ritualistic qualities to his kills which he would come to do again and again, such as the strapping of the victim to some sort of long and flat object, and the covering of everything in sheets of plastic, but his trademark blood-slide collection would not begin here, only later would he start that particular ritual.
Since then Dexter has killed at least 67 people including Mary, Juan Rinez, Alex Timmons, Gene Marshall and Cindy Landon.
Lawyer: "Please state your name and occupation."
Dexter: "My name is Dexter Morgan and I'm a forensics specialist in blood-spatter analysis for the Miami Metro Police Department."
Lawyer: "And how long have you been doing blood-spatter analysis, Mr. Morgan?"
Dexter: "Almost 12 years."
Lawyer: "You've been involved in quite a few cases then?"
Dexter: "Two Thousand One Hundred and Three".
Lawyer: *Chuckle* "Give or take..."
Dexter: "No. Two Thousand One Hundred and Three."
Lawyer: "Then it's safe to say that blood is your life?"
Dexter: "Safe to say."
Dexter Morgan has over 17 years (12 prior to 2006, 17 as of 2011) involved in blood-spatter analysis with Miami Metro Homicide. Unlike a majority of his fellow coworkers within Miami Metro Homicide, Dexter hasn't seen much advancement in his field. Granted, he is the only known blood-spatter analyst in the department while the people he works closest with, such as Vince Masuka, cover the remainder of forensics. However, Dexter has a precise knowledge of his work field and thanks to his interest in blood, this makes him that more efficient in always making sure he solves the case correctly. To Dexter, "the blood doesn't lie".
That is, unless, persons involved in the case fly into his radar and match the code. If any such suspect fits, he may tamper with evidence to insure they go free for the sake of him claiming their life. In one such instance, to help his sister Debra Morgan, Dexter tampered with evidence to insure that Joey Quinn didn't take the fall for Stan Liddy's death.
In addition to his many years in service, he has gained popularity from both the unfortunate tragedy of his wife's death and the line of work he's invested in. Particularly, characters such as Jordan Chase even knew about him and became interested almost immediately while most of Dexter's classmates from 1991 were amazed by his "cool job". Unfortunately this made "Sports Store owner" Joe Walker a bit jealous, due to all the attention Dexter was soaking up and began enjoying.
Information within this plot section is the general, main events occurring within each season. For more a more detailed look at each Season, refer to the tabs at the top of the page
At the start of Season 1, it is obvious that Dexter has settled into a steady life of ritualistic killing doubled with his life as a forensics blood spatter analyst. He is seen by his colleagues as a quirky lab geek and only one man, Sgt. James Doakes suspects him of being anything other than this. He maintains emotionless relationships in order to fit in with society and is constantly hunting for serial killers to satisfy his sadistic need to kill. At the start of the season, Brian, his long forgotten brother starts to send him friendly clues in the guise of messages as a form of friendly competition between them. He leaves puzzles in order to maybe trigger Dexter's memory of his past, such as the prostitutes with painted fingernails in homage to Laura Moser's habit and a room filled with blood, to remind him of his "birthplace". During which, Brian befriends Debra in order to get close to him under the name of Rudy Cooper.
Meanwhile, Dexter struggles to keep his relationship with Rita sex-free, because he believes that if he has sex with her, she will feel his emotional dysfunctions and he starts to grow fond of her and doesn't want to blow it. Later, during a therapy session with Emmett Meridian (a future victim), he is put into a state of calm, wherein he remembers a small part of his past, seeing an image of a boy in blood. He becomes emotional and is able to sleep with Rita because of this, which makes the relationship more intimate. Come the end of the season, their relationship is very nearly normal.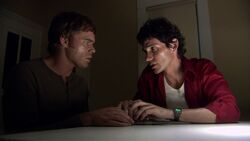 Later on, Brian leaves a room filled with the blood of prostitutes in order to remind him of his dark past and it opens up several memories of him in blood and later researches it and discovers that it was his mother whose blood he was in and that he not only has a brother but that his brother was with him during the massacre of his mother. But after he abducts his sister and tries to murder her he is forced to kill him for "the safety of his sister". He is very nearly heartbroken by this because he has killed the one person who truly saw him for what he was and didn't turn away from him.
38 days have passed since the death of his brother, and he cannot kill because Doakes has been stalking him.
Dexter becomes distracted after the death of his brother and loses his ability to kill momentarily at the start of the season. He realizes that this is because he needs to say goodbye to his brother and move on. From this point Dexter starts to become more in contact with his emotions, but still, by no means, emotionally adept. Debra, traumatized by her ordeal with the Ice Truck Killer, moves in with Dexter, much to his annoyance and hinders his killing even further. Also, his bodies are found and every person in his station start searching for the elusive "Bay Harbor Butcher", which is Dexter.
His relationship with Rita starts to become very shaky and he is forced to admit (falsely) that he is a heroin addict in order to cover for his being a serial killer and he starts going to Narcotics Anonymous programs for her as part of his cover. When he starts dating his sponsor, Lila Tournay, the relationship ends and from Lila he learns how to pleasure a woman and interact with them. He eventually ends up killing her for her murder of James Doakes and other murders from arson. Dexter frames Doakes for his crimes, escapes the justice system and gets back with Rita at the end of the season.
At the very end of the season he decides to begin his own code and to try new methods, different to Harry's original idea.
Inability to KillEdit
At the start of Season 2 Dexter' still hasn't fully recovered from his brothers death and shares his apartment with his sister Debra. Dexter is being stalked by Doakes, who believes that Dexter is somehow connected to the Ice Truck Killer. That's why Dexter is unable to kill somebody and spends his time doing various other activities, like going bowling with Masuka and Batista, which he is seen doing during first minutes of show. Dexter really wishes to kill somebody and when he sees that Doakes, who has been stalking him, has left he uses this opportunity. Dexter goes to blind voodoo priest, named Jimmy and attempts to kill him but finds he is unable to do so and simply lets him go. Dexter then returns to his home. Dexter begins to feel cursed thinking that he can't do anything right anymore.
Next morning Dexter arrives at a crime scene still frustrated about last night. There he sees that apparently a gang member has been killed. His mother who is also present at the crime scene runs to her son and says few words in Spanish to Dexter. Batista says that she said that her son was killed by someone named Little Chino and that she wants Dexter to kill him like a dog. Dexter sees this as a challenge, a "mountain to climb," to get over his performance issues. After Chino comes to the police station Dexter is sure that he will be his next victim. Dexter manages to convince Doakes that he will be playing bowling all night and makes him leave while in reality he plans to kill Little Chino. Dexter stalks Chino to a tattoo parlor where he kidnaps him and takes him to Jimmy's shop. Dexter then ties him to the same table where he had tied Jimmy and takes blood sample from him, but Chino suddenly awakes and manages to break the plastic wrap and escape, leaving Dexter frustrated.
Rita discovers she is pregnant, informing Dexter that she will keep the baby and raise him with or without his help. He ends up proposing marriage to Rita, which she accepts.
While stalking a murderous drug dealer, "Freebo", Dexter stumbles upon a fight between Freebo and another man, whom he is forced to kill in self defense. This victim turns out to be Oscar Prado, brother of Miguel Prado (Jimmy Smits) a prominent assistant district attorney and old flame of Lt. LaGuerta. Miguel comes to confide in and trust Dexter after he helps assist with the case.
Eventually, Dexter tracks down Freebo and kills him, but as he leaves he encounters Miguel, who has followed a lead to Freebo's location. Dexter tells Miguel he had discovered Freebo and killed him in self defense, but instead of reprimanding him, Miguel thanks him and offers to help him cover up the crime. As Dexter and Miguel cooperate to conceal Freebo's true demise from everyone else, the duo end up becoming close friends, as do Rita and Miguel's wife, Sylvia.
Dexter later kills a murderer Miguel had complained about before. Miguel admitted mentioning the man on purpose to test if Dexter would go after him, but instead of arresting him, he praises Dexter for killing another criminal and offers his aid in the future. Trying to discourage Miguel, Dexter proposes a risky operation to free an infamous Aryan Brotherhood leader from prison in order to kill him. Miguel agrees with the idea and the plan succeeds, but Dexter still performs the kill on his own. Dexter starts to recognize Miguel as his first and only true friend, to the point of inviting him to be his best man at his wedding.
While the MPD investigate a serial killer, "The Skinner", who skins his victims alive, Miguel and Dexter's partnership takes a new step when Miguel offers to be the one to kill their next target. With some reluctance, Dexter agrees, only watching as Miguel kills without hesitation. The next day, Ellen Wolf, a ruthless defense attorney and old courtroom adversary of Miguel's, goes missing, and Dexter discovers that Miguel has killed her alone using the code Dexter taught him. Dexter also learns that Miguel has been manipulating him since the beginning to learn his secrets, having never trusted him at all.
The police investigate the death of Ellen Wolf and capture The Skinner. Meanwhile Dexter and Miguel race to have leverage over one another. Dexter realizes that Miguel cannot be allowed to run loose any longer, at which point Dexter decides to kill him and make it look like The Skinner did it. Meanwhile, Miguel uses his position to help The Skinner escape police custody in return for his agreeing to kill Dexter.
Miguel discovers that LaGuerta was investigating him and decides to kill her, but Dexter discovers Miguel's plot and captures him. Before killing Miguel, Dexter confesses to him that he was the one who killed Oscar.
Dexter successfully frames the Skinner for Miguel's murder, but Miguel's other brother, Ramon, becomes suspicious of Dexter. After pointing a gun at Dexter during a dinner with Rita, he is taken into custody. During a visit to him in jail, Dexter helps Ramon put his demons to rest without revealing what he or Miguel really did together.
On the night before his wedding, Dexter is captured by The Skinner, but breaks free by taking advantage of a moment when the Skinner is distracted, shattering his hand in the process. After a short but vicious fight, Dexter snaps The Skinner's neck and make it look like suicide by throwing his body before a moving police car. Dexter gets his broken hand put in a cast and attends his wedding.
In season four, Dexter and Rita are married and have a child together, Harrison. The season follows Dexter's attempt to adapt to married life in suburbia while searching for a serial killer dubbed "The Trinity Killer," who has been killing in cycles of three for nearly 30 years. After he predicted Trinity's third kill, Dexter attempted to crash Trinity's murder. Even though Dexter was unsuccessful in his attempted kill, due to Debra calling him to the scene where Lundy died and Rita holding him up in his apartment, he identifies Arthur Mitchell as Trinity by following him home, where he discovers Trinity has a wife and two children. Intrigued by Trinity's ability to blend into society while continuing to kill for so long, Dexter puts off his decision to kill him and instead tries to befriend him. They later meet at a the church where Arthur preaches, with Dexter under the alias "Kyle Butler." Dexter slowly gains Arthur's trust while hoping to learn some of Trinity's secrets for maintaining his dual-life.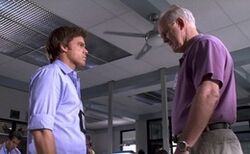 As time passes, Dexter learns that Trinity's "normal" home life is not as perfect as it appears on the outside, with his wife and children emotionally and physically abused into obedience. While ignoring several chances to kill Trinity, Dexter attempts to prod him for information causing severe emotional reactions from him, which lead Mitchell's daily life and their relationship to become highly unstable. In a heated moment, Dexter reveals his motives to kill Arthur but is interrupted before he can do anything. Trinity is able to discover Dexter's real identity and confronts him at the station. Trinity threatens to destroy Dexter's life if he doesn't leave him alone and attempts to flee the city. The following day, however, Dexter is able to catch up with Trinity and kill him.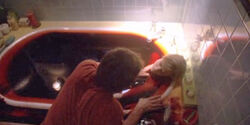 When Dexter goes home to get his bag for his honeymoon with Rita, he finds her dead in the bathtub, the last victim of Trinity. Season 4 ends with Dexter carrying a blood-covered Harrison out of the bathroom with a distraught look on his face.
In Season 5, Dexter is still in shock from Rita's death. He continues to kill people and struggles to accept the fact that professionals have told him that his son, Harrison is going to be perfectly normal. 
Dexter begins to hunt Boyd Fowler (A man who responds to reports of roadkill and cleans up after it). Dexter befriended Boyd and, after a short while, killed him. Unbeknownst to Dexter, Boyd had been holding a young woman (Lumen) prisoner and she witnessed the murder of Boyd. Dexter tried to persuade her that he would not hurt her but she refused to believe him and broke free. Dexter chased her through the woods and she came out onto a road while trying to get someone to pick her up. A car stopped but it was occupied by a few teenage boys, remembering her imprisonment she turns down the offer of a ride thus allowing Dexter to re-capture her.
Dexter brings her to the site of where Boyd had been disposing of his victims and shows her exactly what he saved her from. Insisting for her to trust him, he even handed her a knife (which she promptly cut his arm with but patched up afterwards) and she allowed herself to confide in him her troubles. Lumen had been raped by a Group of men, unsure of the exact number and was bent on revenge for what they did to her. Throughout the following days, Dexter tries to convince her that going down this path will not end well for her. However, she insists on following it, going so far as to nearly kill an innocent man named Robert Brunner because he happened to be a rapist that associated himself with Boyd Fowler (It's uncertain whether or not Robert Brunner actually took part of any of the incidences of rape).
After this mishap, Dexter believes he convinced her to head back home from where she originally lived and leaves her at the airport trusting in this. Little does he know that during his next attempted kill on Lance Robinson that Lumen is still in town...and has gone after another man she believes to have attacked her. Now dealing with his potential next kill trapped in his van and Lumen's mess, he races to the scene to help her deal with the man she apparently killed...only to find him missing. The two search the area, bickering over why she did this again but she claims up and down that he is in fact one of the men due to a distinct smell that he carries. Little does Dexter know that his sister Debra Morgan is on the way with the police to investigate the possible homicide that took place and that means he has less time to operate. They eventually find the man, named Dan Mendell and as Dexter battles to control Lumen's intense hatred for the man...he learns the truth that Dan is in fact one of the rapists due to a phone call he makes to possibly Cole Harmon. Dexter, having heard enough, snaps Dan's neck and helps her clean the area of blood and prints...now ready to get his van so they can move the body. As he does this, Lance Robinson (the man he had trapped in the back of his van shrink-wrapped) bursts out and makes a run for it. Dexter gives a quick pursuit, unknowingly heading straight for his sister and the other officers. He manages to catch and choke the life out of Lance just before he reaches the corner that they're at, quickly disposing of his body in a unique fashion. Switching fast to his work attire, he comes out of the building where Dan was killed to show them what he managed to find...Dexter had set it up that Lance and Dan killed themselves, which thanks to Vince Masuka's "auto erotic mummification" theory...secures Dexter from being caught yet again.
It does not take long for the rest of The Group to arise...one of their top members, Cole Harmon, heads to the swamp to secure the remaining bodies of the women and dispose of them properly...only to end up in an accident by a drunk driver. Quickly fleeing the scene, the bodies are discovered and Dexter is brought to the scene to investigate...wanting to find these men before his forensic team does. When the truck is associated to inspirational speaker Jordan Chase, both he and Cole arrive at the Miami Metro Police Department to answer questions. Dexter gets a chance to meet and snap a photograph of each man, only one of them is recognized by Lumen (that being Cole) and Dexter prepares his next kill. Both he and Lumen arrive at one of Chase's conventions, with Dexter sitting in and watching Cole during a seminar it is not long before Chase notices him and has Cole retrieve him. Dexter meets Chase once more and learns of his interest in the Trinity Case (which lead to his wife's murder), somewhat blindsiding Dexter in their brief re-encounter. Dexter later prepares to kill Cole that night but fails to do so when he discovers a lady friend enjoying an sexual encounter with him...so he postpones the kill for the next day. Preparing a plan to grab Cole at an elevator, he waits in at a seminar once again as Cole departs for his rounds. As he is about to leave Chase calls him up to the stage, shocking Dexter and pulls him into the spotlight...to discuss his grief over his wife's murder.
Dexter, now for the first time put in the open about his emotions and despair, stands on the stage expressing how he felt losing her...and Chase watches on, with a smile and intense interest in his story. While this is going on, Cole manages to spot Lumen and chases her through the hotel..eventually getting to their conjoining rooms. As she locks the door, feeling as if she's safe once again...he bursts through from his own room and tackles her to the floor. Dexter, who took the first opportunity to get off stage, makes his way after Cole and manages to save Lumen's life before the life is choked out of her. He prepares the kill, attempting to discover the identities of the remaining members but receives nothing...allowing Lumen to watch on as he snuffs the life out of Cole with his blade. Just before leaving the seminar with body parts in tow, Dexter encounters Chase one last time and hears a signature line that pinpoints his interest on the man..."tick tick tick, that's the sound of your life running out"...though in this case it has to do with finding opportunity...in Lumen's case, it actually meant her time was drastically short before they intended to kill her.
Now with Chase in his sights, Dexter begins meeting him regularly to find some sort of evidence of how he's connected to the rape of Lumen and the other girls. He finds an interesting angle in a blood vial that Chase wears around his neck and only removes when he goes to shower after a workout, intending to get a sample upon their next meeting. Meanwhile his stepdaughter Astor Bennett suddenly returns to Miami at her mother's old house, meeting Lumen in a surprising turn of events. Dexter arrives on scene and questions what's going on, to learn that his daughter has pretty much turned into a rebellious teen drinking and cussing. Acting as a stern father would, he scolds her to a degree but nevertheless cares for her now...it becomes very complicated with Lumen in Dexter's life, as Astor views this as a terrible thing to have a woman like her around (especially after little Harrison says "Mama" when in reality he meant the toy he was holding). It's not long before Astor's friends father, Barry Kurt arrives on scene, resulting in a conflict first because Dexter thinks he kidnapped them...and then later after Dexter learns that Barry is in fact an abusive father that hurt his daughter's friend multiple times. Enraged, Dexter arranges a meeting in an ally to discuss something...but showing just how human he is, Dexter beats up Barry in a way that only Dexter can - by going after someone's kidneys and liver, winning the fight in less than 10 concentrated hits that made Barry absolutely helpless and in a way, probably in some of the worst pain he's ever felt. Dexter then demands that he leaves his girlfriend (being the friend's mother) and disappear from their lives forever, otherwise things won't turn out so pretty their next encounter (likely resulting in Dexter killing him, he's already killed a pedophile who was stalking Astor...so a dangerous man like Barry would be no problem for him).
He then drives his daughter home, finally telling her that he loved her...where she finally understands his true feelings and comes more to accept him as his father. He comes inside to meet up with Cody again and lets them be as he returns to Miami, where the other events start taking their toll (during the Barry incident, he also received the blood sample from the vile that Jordan had...and found out it relates to Emily Birch, but Jordan now knew of Dexter's involvement...and calls Lumen up, leaving her terrified). They investigate this angle in Emily Birch, finding out about Eugene Greer (his real name) in the process and relation to their next target...Alex Tilden. Dexter allows Lumen to kill this man, showing that she is capable of assisting him in his murders...and Dexter starts to believe in having a partner again (since Miguel). But things are becoming heated...Stan Liddy has been following Dexter and has witnessed a few things that finally make him act, kidnapping Dexter while Lumen visits Emily as part of Jordan Chase's trap. The confrontation with Liddy ends in his death, as per self defense and he is nearly discovered by Joey Quinn who Dexter at this point really doesn't want to have to kill as well to protect himself (likely for his sister's sake). Quinn leaves (not before having a drop of Liddy's blood hit his shoe) and Dexter runs to where Lumen was at, only to discover a now dead Emily Birch (who Jordan killed out of frustration) and a missing Lumen, is giving up a fight. Dexter...now fueled with an intense rage, readies himself for a final conflict to save Lumen and kill Chase.
Dexter races home, calling Chase who is also on the road heading to his camp ground. The two discuss what he wants and tries to bargain some way to set her free, but Jordan simply laughs and tells him there's nothing he can do...he ends the call and Dexter reaches home, grabbing up his kill tools only to be caught by his family arriving for Harrison's birthday. The toll of everything that's happening is clear in Dexter's expression, he's exhausted...worried, truly fearing what might happen to Lumen...but he spends his time for a short while with his family only to be called away once more to the scene of Stan Liddy. This distraction, while frustrating, has to be investigated to insure that nothing happens to him. Unfortunately Quinn is suddenly the prime suspect, something that Dexter doesn't have time to deal with at the moment and makes his way to Jordan's camp..only to fall into a trap where he's caught and thrown down the stairs.
Preparing to kill them both, he lectures them...observing the kill tools in fascination only to see that one is missing. Dexter who has freed himself uses one of his weapons to stab Chase in the foot and he and Lumen work together to knock him out, strapping him to the table and that is where Lumen gets the final kill after Jordan's smug confession. Debra, who has been following the vigilante killings of these men, arrives on scene and while conflicting with herself...holds her own brother at gunpoint through a plastic sheet (thus unable to see him). She tells them how beautiful it is, what they have together...and while crying, she decides to let them both go...providing them both enough time to escape with Jordan's body. Some time after she and her brother discuss what might happen to Quinn and feeling that he has to do this for his sister, he tampers with the evidence thus clearing Quinn's name. Finally, after disposing of Chase, Dexter learns from Lumen that her urge to kill and virtually, her Dark Passenger, has vanished forever...and they promptly break up...with Dexter truly upset as she decides to go her separate way from him. Near the end, a party for Harrison is held and he meets with Astor again...with her asking if helping Lumen was a way to cope with her mother's death and he agreed, feeling he did help her in the end...and Quinn thanks him for helping clear his name. As the season closes out, Dexter looks towards the camera...now vowing to move on from both Rita and Lumen forever, he blows out the candle...saying that "Wishes are for children".
| | |
| --- | --- |
| | Spoiler warning: This article or section contains key plots and information. Read at your own risk. |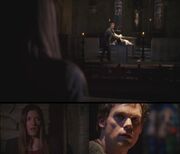 About a year later, Harrison is old enough to walk and Dexter has begun searching for a preschool, though his atheism conflicts with the largely-religious preschools that he applies for. Receiving less-than-insightful interpretations from either Batista or one of his victims, he finds a greater understanding through Brother Sam (Mos Def), an ex-con and murderer whom Dexter once considered killing, who has since become a born-again Christian who counsels other ex-cons. Dexter initially sees Brother Sam's religious conversion as a scam, but Brother Sam proves himself a truly changed man, even helping Dexter through a crisis when Harrison undergoes an appendectomy.
However, things go awry when Brother Sam is shot dead in his garage. Dexter realizes that a friend of Sam's, Nick, is responsible, and swears revenge. Sam forgives Nick on his deathbed and implores Dexter to also forgive him; in the name of his friend, Dexter considers this path of forgiveness over retribution. Nick initially appears remorseful over the shooting, but that proves to be an act; after Sam refuses to press charges on his deathbed, Nick brags about what he did. An enraged Dexter drowns Nick in the surf, reawakening in him the presence of his dead brother, Brian, who begins to guide him in much the same way that Harry's presence once had.
Dexters brother Brian becomes Dexter's new "conscience" in contrast to Harry for a short period of time. He convinces him to go after Arthur Mitchell's son Jonah, who appears to have also become a killer. Dexter adheres to his father's code, however, causing a schism between his personalities. Dexter finally catches Jonah with the intent of killing him, but relents when he sees that Jonah feels guilty about failing to protect his sister, committed suicide by killing herself in a blood bath, similar to how her father killed his victims. When Jonah and his mother discover his sister, the mother blames the children from their fathers short comings. Jonah becomes enraged and kills his mother. Learning this new information, Dexter then rejects his brother, and reaffirms himself to the "Code of Harry", leaving Jonah alive to 'Forgive himself'.
In the meantime, Dexter begins investigating "The Doomsday Killer", a serial killer who models his crimes after the Book of Revelation. He soon finds that the murders are being committed by two people: a fanatically religious college professor named Professor James Gellar (Edward James Olmos) and his protegé, Travis Marshall (Colin Hanks). Dexter tracks Marshall down, but balks at killing him, believing that Marshall has a conscience and is simply being led down the wrong path; Dexter then resolves to save Marshall from his dark passenger.
After the death of Travis' sister, Dexter follows Travis to the old church and discovers Gellar's body in a freezer, concluding that Travis was acting alone all that time, with Gellar acting out a dissociative identity. Being forced to accept Gellar's death, Travis begins to target Dexter, managing to capture him and enact The Lake of Fire. Dexter manages to escape and is rescued by a fishing boat carrying illegal immigrants bound for Florida. Travis kidnaps Harrison to sacrifice him as the "lamb of God" during the eclipse, but Dexter manages to rescue Harrison and takes Travis to the old church. Debra walks into the church, only to see Dexter plunge the knife into Travis, and they look at each other with horror.
Dexter is not Dexter because he spends his day in a laboratory analyzing blood slides. He is a serial killer that actively hunts targets that fit his desires, specifically matching what he calls the Code of Harry. Dexter prepares for each kill by locating a target that fits the code (specifically, someone who has committed murder and has shown little to no remorse for it, a sinner by society's eyes), where he'll then research the potential victim until finding evidence linking them to some crime in their past (or something Dexter's currently investigating that has to do with him or someone close to him).
When he confirms that his kill is legit, he'll create a Kill Room to commit the act that he calls "The Ritual", which in short involves him killing his victim in one of various fashions. The room is wrapped entirely in sheet-wrap and plastic, with a table (or object that can be used as one) set in the center while pictures and/or other items are left situated on the walls in clear view around the table (typically they represent past victims or potential victims of his target). The entire reason the room is wrapped up like this is to prevent blood and trace DNA evidence from being left at any specific area and the mementos kept from the targets victims are to show them the monster they are before he takes their lives away.
With the room ready, Dexter tracks his target and injects them with M99 (an animal tranquilizer) in safety away from crowds...unless he is not given any sort of choice and is forced to improvise. If he cannot use M99, Dexter is known to incorporate knockout procedures caused by either a sleeper-hold or physically beating his target over the head with a blow capable of rendering them unconscious. The victim is then transported via his vehicle (or the target's vehicle, unless the victim is caught at the kill room site itself) to the Kill Room, where they're stripped naked (on most occasions, sometimes Dexter makes exceptions either due to time or perhaps he has other plans with the body) and strapped to the table via plastic wrap and in some cases, thick sheets of duct tape.
Dexter awakens his target, explaining to them their crimes and has a deep moment of personal "release" with each victim. Dexter demonstrates a lot of personality during the rituals, with some people he shows off a sense of deep relief to finally capturing them or perhaps the kill is meant to return him to his routine...while other victims he'll show anger, on various levels. If it is a person he truly cannot stand, he will yell at them and question their actions while violently jabbing his finger in between their eyebrows...holding it there for pressure before removing it and going for a weapon. In some cases, such as Jordan Chase, he'll even apply pressure to the victims eyes before moving back...though he doesn't do enough damage to render them incapable of seeing. Only a few targets has he shown remorse for, specifically the first three Season antagonists (which progressively went from pure remorse, remorse and relief, then mostly anger with a bit of remorse in losing a friend) while the fourth and fifth antagonists felt like a justice to both himself and the world.
In the midst of this conversation, he'll almost always cut a line on their right or left cheek (typically the left) to draw blood...which is then placed in a blood slide for his collection. Dexter did this for sport for most of the first few seasons, but either due to sudden changes in his plans or otherwise...he has almost stopped taking the slides altogether (except in Boyd, Cole and Alex Tilden's case...though Boyd was stored in a "petri dish", probably because he did not possess a blood slide on him at the time).
Finally...after speaking with the victim and either getting their admitted guilt or otherwise, Dexter will end their lives. He does this in a variety of ways which can include a power saw to the neck, decapitation by a clever or choking by wire. Most recently, he has become accustomed to a almost religious form of sacrifice by stabbing each of his victims in the chest with some sort of blade...almost abandoning his older methods of execution. However, by stabbing each victim in the chest...this allows Dexter to feel their life slip away just beneath his blade and ultimately has more of an emotional effect on him than the previous methods...which felt exterior, almost like shooting someone from a distance.
With the victim dead, Dexter will proceed to dismember their body (usually cutting limbs in two pieces and leaving the torso either completely intact or partially intact, the head always being separate). He'll place each part in a black, heavy duty trash bag along with the plastic wrap covered in blood from his slaughter. After the entire kill room has been packed up in the black trash bags, Dexter moves the bags into his car (or the victims car), where he'll proceed to take them out to a harbor where his boat (Slice of Life) is kept. Dexter will take the bags out to sea, dropping them in a specific location each time (originally in Bay Harbor for the first season and before, he moves to a different location that moves the body parts upstream through a river current). On some rare occasions, Dexter will dispose of the body parts in other ways such as by alligator or in a swamp.
Apart from his ritual killings, Dexter has made many on-site killings that were either of the moment or necessary. These include strangling, death by gunshot, stabbings, neck breaking and otherwise. Most of these victims are discovered by police due to the fact that Dexter took no pro-visionary action to dispose of their body...and instead improvises a plan to protect himself and get rid of the evidence (via the police).
Despite how Stan Liddy describes him as "squeaky clean on paper," Dexter has committed many crimes, besides murder. All of them have something to do with his status as a serial killer. Some of the crimes are:
Breaking and Entering/Trespassing - normally committed as part of his ritual
Stalking/Unlawful use of his Police database access - normally committed as part of his ritual
Arson - Burnt everything in his storage unit/Shipping container
Destruction of private property - breaks things that annoy him/cause problems with his kill ritual
Abduction/Unlawful Imprisonment/Detainment - normally committed on victims/threats to his disguise
Assault and Battery - normally committed on to-be victims
Unlawful possession of tranquilizers and other 'knock-out' drugs - used for victims
Interfering with police investigations/Tampering with evidence - normally done to cover his/someone close to him's footsteps; uses aliases regularly
Burglary/Grand Theft Auto - occasionally steals possessions of victims; stole a car to pursue Jordan Chase
Numerous counts of moving/stationary traffic violations/Hit-and-Run accidents - normally committed when in pursuit of victims/people of interest
See Category:Characters Killed By Dexter
See Page:Dexter's Kill List
AppearancesEdit
Dexter has appeared in every episode in the series thus far, as he is the title (as well as main) character, and it is unlikely for him to not have a physical appearance.
In the novelsEdit
Main article: Dexter Morgan (Novels)

Much of Dexter's character is similar in the novels. However there are differences between the events that occur in the novels and in the TV series.
Overall, Dexter is a villain protagonist as opposed to traditionally 'good' ones. While he does have an anti-hero attitude on killing only criminals who are likely to kill again, it's not out of the goodness of his heart nor it is to make the world a better place. Dexter simply thinks that it's better as well as safer, according to the codes, to kill criminals than innocents to keep his urges in check.
Author Jeff Lindsay has stated that he chose the name "Dexter" because it is the opposite of "sinister" (as, in Latin, "Dexter" translates to "right handed", and it's complement is Latin for "left handed" or "sinister"), referring to how he appears normal on the surface.
Dexter's exact age is speculative. In Season 1, it is stated that he was three years old in 1973, which sets his birthday between late 1969 and early 1971. However, in Season 6, Dexter attends his high school reunion, and it is stated that he graduated in 1991. Assuming he was born between 1969 and 1971, Dexter would have been between 20 and 22 years of age when he graduated. It is very unlikely that Dexter failed 2-4 years of high school due to his intelligence. One explaination is that he started school very late due to family circumstances.

On a side-note, it has been stated that Dexter's birthday is February 1st, 1971. This would indicate he graduated high school when he was 20.

Dexter's father's surname is Driscoll, and his mother's is Moser. This could possibly indicate that he is of Irish and German descent.
Dexter is extremely skilled in jiu jiutsu (which he studied in college) and kung fu, and other fighting and grappling techniques. He can easily subdue victims or attackers, even under duress. For instance, he was able to overpower James Doakes with a gunshot wound, and Jorge Orozco with a broken hand.
Dexter is an organ donor.
Dexter's blood type is AB negative.
Dexter has books titled "PowerBuilder 6", "Internet Information Server 4", "HTML 4", and "Outlook 98" on his bookshelf.
Dexter was top of his class in medical school before quitting and becoming a blood spatter analyst.
Dexter is right-handed, as shown by how he holds pens, handles knives, holds syringes, and the wrist he wears his watch on. However, in Easy as Pie, when he golfs with Miguel Prado, his stance and swing suggests that he is left-handed. There are two possible explanations for this: either his left hand just happens to be more dominant in this activity (it should be noted that there are many athletes in golf, baseball and hockey who swing left despite being right-handed in all other activities), or he is ambidextrous (although this is uncommon).

Brian Moser, Dexter's brother, may (also) be ambidextrous. He is shown to use a computer mouse with his left hand, and play air guitar with his right hand. Some theories and studies have suggested that being ambidextrous could be due to a genetic factor, which Dexter and Brian may share.

Dexter amuses himself with puns concerning his serial killing, despite the significant risk of someone figuring out that he is a serial killer. For instance:

He frequently uses pseudonyms that refer to the works of Bret Easton Ellis. For instance, he buys M99 (the animal tranquilizer he uses to subdue his victims) using the name Dr. Patrick Bateman, a serial killer from "American Psycho", and goes to a psychiatrist using the name Sean Ellis, a combination of Ellis and Sean Bateman from "The Rules of Attraction".
He named his boat "Slice of Life" (in reference to him using knives to kill).

Dexter's fake DEA license to obtain the M-99 Ethorpine Hydrochloride animal tranquilizer is registered to: Bateman, Patrick M.D. 2203 Blanchard Ave, Ft. Lauderdale, FL 33301 State License #: F334156 CDS#: E-669-BL-66 DEA#: AB664955-6613-1106.
Dexter takes no counter-measures against leaving digital (both paper and audit) trails, or any other electronic evidence, and does not usually use technology (aside from his computer) to aid in his research on potential victims (or, if he does either, it has never been shown or mentioned). For instance:

Dexter frequently answers phone calls at, or near, his kill sites (which could be used to pinpoint his location)
He researches his potential victims on his work computer, both at work and home.
In Season 2, he borrowed a tranquilizer gun from the Miami Metro Police Department's armoury (under the pretense that he was having an alligator problem) and lose it to Little Chino's lackeys. 
In Season 2, he did not delete his travel history from Rita Bennett's GPS tracking device in her minivan after driving it, which resulted in Lila West being able to track him down and figure out he is the Bay Harbor Butcher.
In Season 5, Dan Mendell, a member of the Group (of men who raped and tortured Lumen Pierce, called another member of the Group, Cole Harmon, whose identity is unknown to Dexter at the time. After killing Mendell, Dexter does not check the phone for the number Mendell called (and for other possible Group members' numbers). This would definitely have aided him in identifying Harmon.

At the end of each season, Dexter kills someone important or personal to him, usually with alternating methods that deviate from his normal modus operandi.
While Dexter is usually more physically capable than his opponents, there have been a few instances where he has been at ends with capturing his victim.

Little Chino - A mountain of a man, tall and more muscular than Sergeant James Doakes  or anyone else in the series, he proved to be stronger than what Dexter had anticipated and broke free from his shrink wrap, while supposedly still on tranqulizer. If he had stuck around to fight, he could have possibly killed Dexter, who is in distraught.
Ray Speltzer - A bodybuilder on steroid with a psychotic attitude, he overpowers Dexter in a fight and knocks him out which is an unusual case for Dexter. Even more unusual is that Ray brings Dexter to his own version of a kill room, though built like a maze where he becomes a Minotaur. Dexter, for once, had to escape for his life, to repay favor with an ambush later.
"Tonight's the Night" - the very first line spoken by Dexter.
"I don't run, I make people run" - internal monologue after being caught by Ray Speltzer

Then later after seeing Ray approach wearing bull horns and carrying an axe..."However I do run if there's a bull coming at me with an axe".

Regarding Hannah McKay: "She isn't drawn to my darkness like Lila or blind to it like Rita and she doesn't need it like Lumen. She accepts both sides of me; the whole Dexter."
ReferencesEdit
| | |
| --- | --- |
| This page has a disambiguation page, here. | |