The following page provides info specifically on Dexter during Season Five. For general info on Dexter, please refer to this page.
For Detailed Info on Plot for Each Season, refer to the respective Tabs
Dexter Morgan/Season 5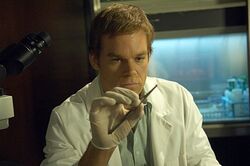 Killer Profile
"The Bay Harbor Butcher"
Active
Number of Victims
6 (in season 5)
Modus Operandi
Tools/Weapons
Large knife, Etorphine (M99), Garrotting wire. Occasionally a cordless drill, hammer and chainsaw, set of scalpels and other surgical equipment.
Killing Method
Dexter first sedates his victims with M99, wraps them up, ties them down and stabs them in the heart (specifically the left ventricle). He has been known to alter his method for certain victims, for example he kills Arthur Mitchell with the same hammer Mitchell used to kill one of his victims.
Method of Disposal
Bodies are subjected to post-mortem dismemberment. The severed pieces are then put in biodegradable bin liners and dumped in the Atlantic Ocean via the Gulf Stream, where they are carried throughout the country until deposited in the North Atlantic.
Cause
Dexter (along with his brother Brian) witnessed the brutal murder of their mother in a cargo container at a very early age. After seeing Laura Moser chainsawed to pieces, they were then left in the cargo container for three days.
Dexter Morgan is the protagonist of both the DEXTER television series and the Dexter Book Series. Dexter is a blood spatter analyst who happens to hobby in being a Serial killer. He has an adoptive sister by the name of Debra Morgan and the former biological brother of the deceased Brian Moser. His adoptive parents are Harry and Doris Morgan, unfortunately both have passed away prior to the events of season one.
Ad blocker interference detected!
Wikia is a free-to-use site that makes money from advertising. We have a modified experience for viewers using ad blockers

Wikia is not accessible if you've made further modifications. Remove the custom ad blocker rule(s) and the page will load as expected.