Dexter's Neighbor (10A)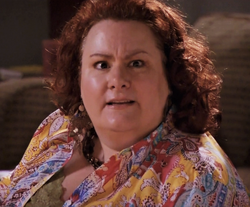 Character Profile
Portrayed By
Donna Pieroni
First Appearance
Episode 501: My Bad
Last Appearance
Episode 501: My Bad
Character
Full Name
Unknown



Status
Alive



Characteristics
Age
30's to 40's
Gender
Female
Eyes
Brown
Hair
Red
Personal Status
Marital Status
Single



Dexter's Neighbor (or as she refers herself as, "10A") is a Character in DEXTER. She is a woman that lives on the floor below Dexter Morgan in Apartment 10A, though she (along with a majority of Dexter's neighbors) are rarely seen throughout the series.
Her only appearance is during Episode 501: My Bad, when Dexter disappears and leaves his son Harrison in her care temporarily until his sister Debra Morgan can arrive. Deb bursts through the door and announces herself by cursing, twice asking "who the fuck are you" while clearly offending the woman. She says that she's from downstairs and was watching Harrison, figuring that she's "the sister" so she'd know what to do. As she leaves, Deb tells her to stop and goes in the other room to leave a message for Dex calling the woman a "crazy cat lady".
Trivia
The character is referred to as "Large Woman" in the credits. [1]
She is one of few neighbors that have actually been shown living in Dexter's apartment complex, apart from Jamie Batista and Cassie Jollenston.
References