Detective Sue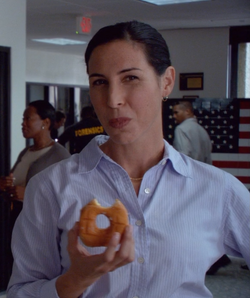 Character Profile
Portrayed By
Susanne Kreitman Taylor
Season(s)
1
First Appearance
Dexter
Last Appearance
Dexter
Appears in
1 episode
Character
Full Name
Sue
Aliases
Detective Sue
Status
Alive



Characteristics
Age
20's to 30's
Gender
Female
Eyes
Brown
Hair
Brown
Personal Status
Professional Status
Profession
Detective with the Miami Metro Police Department
Detective Sue is a character in DEXTER. She is a detective working for the Miami Metro Police Department with coworkers Detective Dan and Dexter Morgan.
Appearance
Sue is a woman in her 30's with long black hair tied in a ponytail. She wears a dark blue skirt with a white, longsleeved yet button up shirt overtop of that. She has somewhat of a long face as well.
Personality
For the short time she speaks, it is assumed she has a bit of dark humor attributed to her work field. She takes a liking to glazed donuts and like Detective Dan, both simply snicker and laugh about things others would consider morbid.
Plot
Sue appears for one episode during Season 1, with possible other appearances after this point (needs research).
Season 1
Sue appears along with Dan as Dexter enters the Police Department after investigating the technical third of the Ice Truck Killer's crime scenes. With him he carries a case of donuts and they're the first two after another police officer to get a taste. Both she and Dan converse about a bloodbath (likely referring to a very violent crime scene), to which Dexter kind of plays it off with a smile and when asked about family he kind of shrugs his arms. The two smirk at him and move on their separate ways, continuing with their workday.