Detective Dan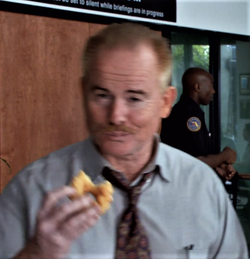 Character Profile
Portrayed By
Marc Macaulay
Season(s)
1
First Appearance
Dexter
Last Appearance
Dexter
Appears in
1 episode
Character
Full Name
Dan
Aliases
Detective Dan
Status
Alive



Characteristics
Age
30's to 40's
Gender
Male
Eyes
Brown
Hair
White and brown
Personal Status
Professional Status
Profession
Detective for Miami Metro Police Department
Detective Dan is a character in DEXTER. He is a detective working in the Miami Metro Police Department along with coworkers Detective Sue and Dexter Morgan.
Appearance

Dan appears to be an older man with a wrinkled face, complimented by a brown (almost orange) mustache and somewhat fuzzy hair ontop of his head. He appears to be a bit fattish, wearing the typical "detective" outfit of brown pants with suspenders and a tie with a white shirt.
Personality
Dan has somewhat of a joky personality, like his coworker Detective Sue. Though that is all that can be said for him, as he moves on to continue talking with other officers (most likely about cases).
Plot
Dan appears for only one episode in Season 1 (with possible reoccurrences later on).
Season 1
After Dexter returns from investigating the technical third Ice Truck Killer crime scene, he comes in with a box of donuts that a police officer takes from before he meets up with both Dan and Detective Sue. The two converse about a bloodbath (referring to a violent crimescene) and they joke about it, including bringing up anything regarding a family life for Dexter to which he shrugs off the comment. Both continue snickering abit as they take a donut and walk off, continuing with their daily work life.