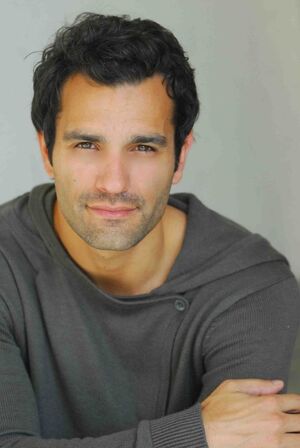 Dave Baez (born Dave L. Ortiz, 26 June 1971) is an American actor and model. He is of Puerto Rican, French-Canadian, and Portuguese descent
He plays Gabriel in season two on Showtime's series, DEXTER.
Career
He is known for his roles in 9/Tenths (2006), The Crow: Wicked Prayer (2005), Casa de los babys (2003), LA Blues (2007). He was named one of the people in "Español's 25 Hottest Bachelors" in 2004. He has also done theatre work. Other credits include the Daytime Episodic, "Days of Our Lives," "The Mentalist," "The Secret Circle," the Paramount comedy, "All of Us," and the IFC series "Maron" in 2015, along with countless commercials for brands such as, Bud Light, Craftsman, Honda, Toyota, Buick, Caress, Verizon and AT&T.
Personal Life
Born in the old New England fishing town of New Bedford, Massachusetts, Dave grew up in a supportive multi-ethnic family, deeply rooted in Portuguese and Puerto Rican culture. Dave developed a passion for the arts, leading him to the University of Massachusetts, Dartmouth. There, he majored in Theater Studies, performing in several plays as well as establishing a program for students called, "The Experimental Stage," a creative outlet for free speech and the performing arts on campus. After college, Dave moved to Miami, and was soon cast in his first professional theater production as King Philip of France, in "A Lion In Winter." Legendary fashion photographer Bruce Weber booked him for ads in Versace and Ralph Lauren, among others. Dave's focus, however, remained on acting and he moved to New York and enrolled in the acclaimed Herbert Bergdorf studio, studying under the late William Hickey. He was accepted into the "Absolute Theater Company," which produced off Broadway plays. After benefiting from a donation from Al Pacino, the Company produced a showcase in Los Angeles, which in turn, allowed Dave to make his destined move out west.Dave continues to live and work in Los Angeles.
Gallery