Danny Yamiro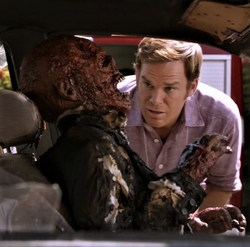 Character Profile
First Appearance
Helter Skelter
Last Appearance
Helter Skelter
Character
Full Name
Danny Yamiro



Status
Deceased
Manner of Death
Killed by Phantom Killer
Characteristics
Gender
Male
Eyes
Brown
Hair
Black
Personal Status
Professional Status
Profession
Paralegal
Danny Yamiro is a Character in DEXTER. He is the first shown victim of the Phantom Killer, found as a burned corpse inside his vehicle on a public street.
Arson Investigator Phil Bosso suggests his death was by self-incineration (a form of Suicide). Dexter however notices an inconsistency in this where the backseat of the car is void of scorch marks from the flames, suggesting there was something there (which is later pointed out at the crime scene for Leo Santolongo).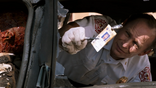 According to his ID badge which was found in his car, he was a Paralegal that worked downtown. The reason the Phantom chose him is currently unknown.