Daniel Ortese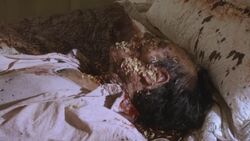 Character Profile
First Appearance
First Blood
Last Appearance
First Blood
Character
Full Name
Daniel Ortese



Status
Deceased
Manner of Death
Killed by the Fuentes Brothers
Characteristics
Age
20s to 30s
Gender
Male
Eyes
Brown
Hair
Black
Personal Status
Marital Status
Married
Spouse
Awilda Ortese (deceased)
Immediate Relatives
Awilda Ortese (wife; deceased)
Daniel Ortese is a character in DEXTER. He and his wife Awilda Ortese are the first unfortunate victims of Carlos Fuentes and Marco Fuentes. He and his wife were killed after Daniel withdrew all his money form an ATM and then giving it to the Fuentes Brothers. He and his wife were both killed by a machete and their bodies were left in the house and went unnoticed for weeks. It was only after three more people were killed that their bodies were discovered by Detective Debra Morgan and Officer Cira Manzon.
Ad blocker interference detected!
Wikia is a free-to-use site that makes money from advertising. We have a modified experience for viewers using ad blockers

Wikia is not accessible if you've made further modifications. Remove the custom ad blocker rule(s) and the page will load as expected.