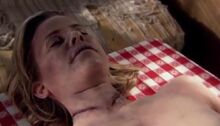 The Coyote Murder Case is a police investigation into the murder of a woman who doubled as a human smuggler along with her husband. ("Love American Style" and "Return to Sender.")
Victim
Valerie Castillo - A woman who lived in the suburbs and assisted her husband, Jorge, in the transportation of illegals. This eventually caught the attention of Dexter when it was discovered that they killed those who couldn't afford to pay the fee after they were shipped to Miami.
Suspects
Jorge Castillo - A man who worked with his wife to smuggle people into the country from Cuba. Initially the prime suspect in his wife's murder due to his disappearance and his wife's death. Police were never able to find out that the Jorge was already dead when his wife was killed. (Dexter scraped the blood from Valerie's smiling blood slide to frame Jorge for the murder.)
Ice Truck Killer Copycat - A theory that Debra had been working on due to the similarities in the M.O. Eventually dismissed as a possibility when compelling evidence showed up suggesting that the husband killed her.
History of True Killer
Dexter was born to a single mother named Laura Moser and had an older brother named Brian Moser. When he was three-years-old, he witnessed his mother being chainsawed into pieces. This traumatic event formed his urge to kill. He was later rescued from the blood-filled container by a homicide detective, Harry Morgan. Dexter spent the years of his adolescence being trained by Harry to control his urges to kill. Dexter was also taught when it is acceptable to kill and how to avoid being caught. Almost always, Dexter channels his dark urges toward killing other killers. After dumping some of his early victims in the Everglades, Dexter decided that it would be safer to bury the bodies out at sea in Bay Harbor and thus bought a fishing boat.
Detectives on Case
Detective-Sergeant James Doakes - Ran point on the investigation and took the initial impression that it was the husband who killed Valerie, after evidence is found indicating that.
Detective Angel Batista - Worked on the case and helped Deb and James with translating what Mariel was saying.
Officer Debra Morgan - Worked on the case with Doakes and formed her own theory that it was a copycat of the Ice Truck Killer.
Lieutenant Maria LaGuerta - Managed the personnel on the case and took care of a boy witness while waiting for his uncle to his arrive.
Other operatives involved in the case.
Forensics Specalist Vince Masuka - Worked on the case primarily based on the fact that there was no blood. He finds evidence that a sedative was used on her and determines what killed her.
Forensics Blood Spatter Analyst Dexter Morgan - Worked on the crime scene to make sure that he gets away with the crime. Eventually forges evidence that frames the husband for the murder.
Closure of Case
The case was officially closed because of the overwhelming evidence against the husband. After Dexter's blood slides were found, it is likely that investigators assumed that Jorge was killed by the Bay Harbor Butcher because he murdered his wife.
Fate of Killer
Dexter Morgan escaped justice and successfully framed Jorge Castillo for the murder.