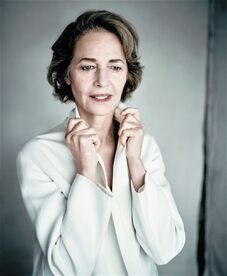 Tessa Charlotte Rampling OBE (born 5 February 1946) is an English actress, model and singer, known for her work in European art house films in three languages - English, French, and Italian. An icon of the Swinging Sixties, she began her career as a model and later became a fashion icon and muse.
A four-time César Award nominee, she received an Honorary César in 2001 and France's Legion of Honour in 2002. She was made an OBE in 2000 for her services to the arts, and received the 2015 Lifetime Achievement Award from the European Film Awards. In 2015, she released her autobiography, which she wrote in French, titled Qui Je Suis, or Who I Am. She later worked on an English translation, which was due to be published in March 2017.
She played Dr. Evelyn Vogel, a major character in Season Eight of DEXTER.
Early Life and Family
Rampling was born in Sturmer, Essex, the daughter of Isabel Anne (née Gurteen; 1918–2001), a painter, and Godfrey Rampling (1909–2009), an Olympic gold medalist and British Army officer. She grew up and spent most of her childhood in Gibraltar, France, and Spain, before she returned to the UK in 1964. She attended Académie Jeanne d'Arc in Versailles and St. Hilda's School, a boarding school in Bushey, Hertfordshire, England. She had one sister, Sarah, who committed suicide in 1966, aged 23. She and Sarah had had a close relationship, and they had performed in a cabaret act together during their teenage years.
Personal Life
In 1972, Rampling married New Zealand actor and publicist Bryan Southcombe and had a son, Barnaby, who became a television director as an adult, before divorcing in 1976. The couple was widely reported to have been living in a ménage à trois with a male model, Randall Laurence, and in 1974, Rampling was quoted by the syndicated columnist Earl Wilson as saying: "There are so many misunderstandings in life. I once caused a scandal by saying I lived with two men ... I didn't mean it in a sexual sense ... We were just like any people sharing a flat."
In 1978, Rampling married French composer Jean-Michel Jarre and had a second son, David Jarre, who eventually became a musician and singer in his own right. She raised her stepdaughter Émilie Jarre, who grew up to become a fashion designer. The marriage was publicly dissolved in 1997, when Rampling learned from tabloid newspaper stories about Jarre's affairs with other women and had a nervous breakdown. She was engaged to Jean-Noël Tassez, a French journalist and businessman, from 1998 until his death in 2015. Rampling lives in Paris. She also suffered from depression.
Gallery