Celeste Guerrero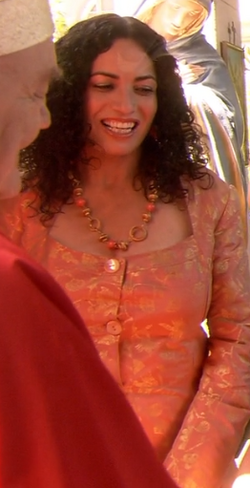 Character Profile
Portrayed By
Margarita O'Quendo
Season(s)
1
First Appearance
Popping Cherry
Last Appearance
Popping Cherry
Appears in
1 episode
Character
Full Name
Celeste Guerrero



Status
Alive



Characteristics
Gender
Female
Hair
Brown
Personal Status
Marital Status
Married



Professional Status
Profession
Unknown
Celeste Guerrero is a Character on DEXTER. She is the wife of Carlos Guerrero and mother to Rose Guerrero. Her husband is the head of a local drug ring and while her daughter remains ignorant of his illegal activities, it's uncertain whether or not Celeste is also kept in the dark.
She is only shown very briefly during her daughter's Confirmation celebration, where she is seen standing next to the Bishop of the Church who congratulates Rose . She stands off in the background admiring her daughter and talking with the Bishop as Sergeant James Doakes greets Rose and questions her on the deaths of Ricky Simmons and Kara Simmons.
Her father, Carlos Guerrero, rushes over to warn Doakes to step away from her. After a tense confrontation, Doakes announces that Carlos murdered a cop and his wife which makes Rose question her father, ignorant of what he's truly involved in. Carlos motions Celeste to take her away from here, which she does immediately to shield her daughter from having to hear someone unmask her father.
It is unknown what happened to Celeste following her husband's arrest after he attempted to kill Doakes.
Ad blocker interference detected!
Wikia is a free-to-use site that makes money from advertising. We have a modified experience for viewers using ad blockers

Wikia is not accessible if you've made further modifications. Remove the custom ad blocker rule(s) and the page will load as expected.