Casey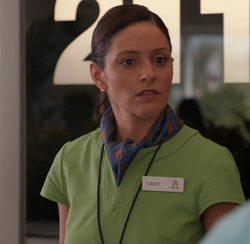 Character Profile
Portrayed By
Mercedes Renard
Season(s)
Season Eight
First Appearance
Remember the Monsters?
Last Appearance
Remember the Monsters?
Character
Full Name
Casey



Status
Alive



Characteristics
Age
30s
Gender
Female
Eyes
Brown
Hair
Brown
Personal Status
Professional Status
Profession
Receptionist at Aero Sudamerica Airport
Casey is a Character appearing in the Finale of DEXTER. She is a receptionist working at the Aero Sudamerica Airport in Miami. When Dexter Morgan attempts to leave Miami with his girlfriend Hannah McKay and son Harrison, they are confronted with an issue involving the pursuit of Jacob Elway - a private investigator after the hefty bounty on Hannah's head.
Realizing there's no other option, Dexter sets Elway up by buying various merchandise and placing it in a backpack...which he leaves underneath a chair in the main lobby area. He then approaches Casey, introducing himself as Miami Forensics stating that he saw a man leave the bag under there and walk away, then pointing over to Elway speaking on his phone. Dexter does this in order to make Casey believe he's either a terrorist or a criminal involved in a dropoff, which results in Casey calling airport security that holds Elway in custody for a short while.
Unfortunately, this also cancels the flight due to the potential "threat" and no further flights are scheduled in this airport due to Hurricane Laura approaching in the distance.