Carl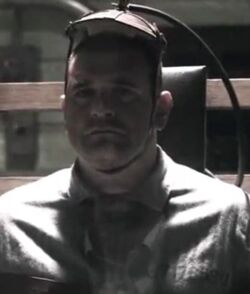 Character Profile
First Appearance
Resistance Is Futile (Flashback only)
Last Appearance
Resistance Is Futile (Flashback only)
Character
Full Name
Carl



Status
Deceased
Manner of Death
Executed via electrocution
Characteristics
Age
40's
Gender
Male



Personal Status
Marital Status
Single
Spouse
N/A
Immediate Relatives
N/A
Professional Status
Profession
Serial Killer
Killer Profile
"No Known Alias"
Inactive
Number of Victims
11
Modus Operandi
Tools/Weapons
Unknown
Killing Method
Unknown
Method of Disposal
Unknown
Cause
Unknown
""I want this seared into your mind, son." - Harry, to teenage Dexter about Carl's death"
Carl is a character and serial killer in DEXTER. He was a man who killed 11 people and was sentenced to death for his crimes.
Appearance
Edit
Early Life
Edit
Not much is known about his early life except the fact that he is a serial killer who is responsible for the death of 11 people. At one point he was caught by Harry Morgan and was subsequently sentenced to death for his crimes.
He only ever appeared in a flashback where Harry takes Dexter to see him get executed. At his execution, many people were disturbed by the fact that a child was going to watch him die. After his death, however, Dexter learned the importance of not getting caught.
Book Series
Edit
His Prison Number was 7176530
Ad blocker interference detected!
Wikia is a free-to-use site that makes money from advertising. We have a modified experience for viewers using ad blockers

Wikia is not accessible if you've made further modifications. Remove the custom ad blocker rule(s) and the page will load as expected.