Captain Gower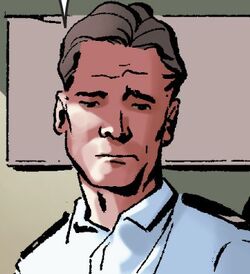 Character Profile
First Appearance
Dexter: Down Under Issue 1
Character
Full Name
Captain Gower



Status
Alive



Characteristics
Gender
Male
Hair
Blonde
Personal Status
Marital Status
Single



Professional Status
Profession
Member of the Canberra Police
Captain Gower is a Character in the Dexter Comics. Captain Gower is the Captain of the Canberra Police , including Sergeant Shawna Wiggs.
Sergeant Shawna Wiggs recommends Captain Gower to contact the writer of a famous book regarding blood spatter analysis, to use the author's assistance and expertise to aid the Canberra police on the recent asian inmigrant murders. He gives green light to the request of Sergeant Wiggs. 
Ad blocker interference detected!
Wikia is a free-to-use site that makes money from advertising. We have a modified experience for viewers using ad blockers

Wikia is not accessible if you've made further modifications. Remove the custom ad blocker rule(s) and the page will load as expected.