Cal Rooney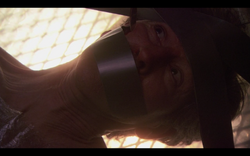 Character Profile
Portrayed By
Joel Weiss
First Appearance
Our Father
Last Appearance
Our Father
Character
Full Name
Cal Rooney



Status
Deceased
Manner of Death
Killed by Dexter Morgan
Characteristics
Age
50s (at death)
Gender
Male
Eyes
Green
Hair
Gray
Personal Status
Marital Status
Single



Professional Status
Profession
Carnival worker
Killer Profile
"No Known Alias"
Inactive
Number of Victims
2
Modus Operandi
Tools/Weapons
Unknown
Killing Method
He runs the booth that guesses peoples weight and under that pretense to see if he's right he looks up their addresses to rob them, one dies of a heart attack as a result of one of his break-ins and he kills another on a different break-in
Method of Disposal
None
Cause
Unknown
Cal Rooney[1][2] is a character in DEXTER. He is a carnival worker who is Dexter's first victim shown in Season 3. He is only shown briefly in flashbacks while Dexter recounts in his usual ambiguous way what he did over the summer to his dentist. Dexter is shown injecting the man, who appears to be in his early 50's, with tranquilizer, taking a blood sample from his cheek, and striking him with a meat cleaver.
References
Edit
Ad blocker interference detected!
Wikia is a free-to-use site that makes money from advertising. We have a modified experience for viewers using ad blockers

Wikia is not accessible if you've made further modifications. Remove the custom ad blocker rule(s) and the page will load as expected.