Bridget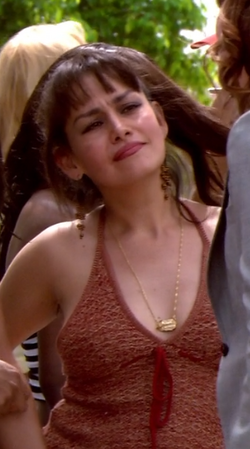 Character Profile
Season(s)
1
First Appearance
Popping Cherry
Last Appearance
Popping Cherry
Appears in
1 episode
Character
Full Name
Bridget (assumed prostitute name)
Aliases
Bridget
Status
Alive



Characteristics
Gender
Female
Eyes
Brown
Hair
Black
Personal Status
Professional Status
Profession
Prostitute
Bridget is a character in DEXTER. She is one of several prostitutes that knew Debra Morgan under the name "Brandy" while she was working undercover as a Vice Officer in the Miami Metro Police Department. After a third victim, Sheri Taylor, ends up murdered by the Ice Truck Killer Deb visits Bella, Shanda, Gabrielle and Bridget. The girls greet her like one of their own, marveling over the suit and wonder what rich trick gave her that outfit. Before long she reveals that she's actually a cop and this causes Bridget to start running. Deb tries to tell her that she's not going to bust her but she's already ran around the corner. She isn't heard from again, instead Deb continues to talk to the other three.
Ad blocker interference detected!
Wikia is a free-to-use site that makes money from advertising. We have a modified experience for viewers using ad blockers

Wikia is not accessible if you've made further modifications. Remove the custom ad blocker rule(s) and the page will load as expected.