Bob Hicks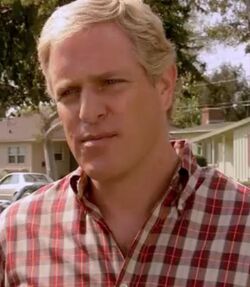 Character Profile
Portrayed By
Scott Atkinson
First Appearance
Born Free
Last Appearance
Born Free
Character
Full Name
Bob Hicks



Status
Alive



Characteristics
Gender
Male
Eyes
Green
Hair
Blonde
Personal Status
Marital Status
Single



Professional Status
Profession
AA sponsor
""Bob, you seem like a nice man,
but this isn't your goddamn business" - Rita, to Bob"
Bob Hicks is a character on DEXTER in Season 1. He was Paul Bennett's sponsor after he was released from prison.
Appearance
Personality
Plot
Season 1
When Paul gets arrested for using heroin, Bob initially thinks that he screwed up. But when Paul proclaims his innocence, he decides to look into Paul's allegations that Dexter set him up. When he sees Paul's x-rays he is convinced, since Paul now has a concussion when he didn't have one before. He goes to Rita's house to explain all this but Rita doesn't listen and instead tells him to get off her property and never come back.
Ad blocker interference detected!
Wikia is a free-to-use site that makes money from advertising. We have a modified experience for viewers using ad blockers

Wikia is not accessible if you've made further modifications. Remove the custom ad blocker rule(s) and the page will load as expected.