Billy Fleeter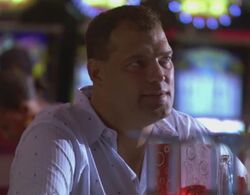 Character Profile
Portrayed By
Jeff Chase
Season(s)
Season Three
First Appearance
The Damage a Man Can Do
Last Appearance
The Damage a Man Can Do
Character
Full Name
William Fleeter
Aliases
Billy
Nicknames
Slammer
Status
Deceased
Manner of Death
Killed by Miguel Prado under Dexter Morgan's supervision
Characteristics
Age
40 (at death)
Birthday
January 17, 1968
Gender
Male
Eyes
Green
Hair
Black
Personal Status
Marital Status
Single



Professional Status
Profession
Ex-football player
Gambler
Serial Killer
Killer Profile
"No Known Alias"
Inactive
Number of Victims
3
Modus Operandi
Tools/Weapons
Baseball bat
Killing Method
He bludgeons his victims to death
Method of Disposal
No method of disposal
Cause
His gambling addictions led him down a hole where he eventually had to work off his debts by killing off other gamblers who can't pay their debts.
William "Billy" Fleeter is a character in DEXTER. He was an ex-football player who gave up sports for gambling and eventually started killing other gamblers to pay off debts.
Early Life
Billy Fleeter had a college football career until his addiction to drugs was discovered and he was kicked out. He later turned from one addiction (drugs) to another (gambling). Afterwards he got into two separate fights, one at the Oceanfront Casino and the other in his house. The first fight resulted in him being charged with assault and battery which was later dropped because the victim refused to testify. The other fight resulted in him being charged with aggravated assault but he was let go due to procedural error. Afterwards he continued hanging around the Oceanfront Casino placing bets, often losing and eventually he got busted for possession in 2008 where he pleaded guilty and was sentenced to two years probation. Running up serious debts, he pays them off by helping his bookie kill others who cannot pay their debts. His first victim was a seventy-year-old school teacher named Bryan Thayer. Assistant District Attorney Miguel Prado went after him for this murder but could not get enough evidence for a conviction. Billy then went on to kill an unnamed mother of two after losing more money.
Plot
Miguel brings in his friend Dexter to Billy and suggests take that he be the one to kill him. As a result Dexter Morgan uses Fleeter to help train Miguel Prado in his trade. He shows Miguel how to research his victims to be sure they deserve to be killed (or meet The Code of Harry in Dexter's case). They find out Billy killed a man named Dillard Nessman after losing over thirty grand. Dexter then reveals to Miguel how to stalk and subdue his victims, as well as how to kill them and not leave any traces behind. Fleeter is killed by Miguel Prado in an old casino storage room.
Victims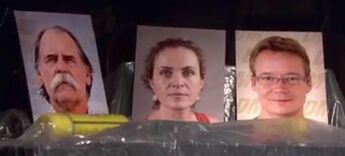 A unnamed mother of two kids