Betsy Court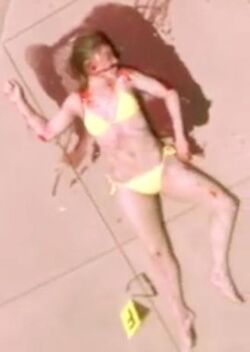 Character Profile
First Appearance
That Night, a Forest Grew (Corpse)
Last Appearance
That Night, a Forest Grew (Corpse)
Character
Full Name
Betsy Court



Status
Deceased
Manner of Death
Killed by unknown killer
Characteristics
Age
16 (at death)
Gender
Female
Hair
Blonde
Personal Status
Marital Status
Single
Immediate Relatives
Unnamed mother
Craig Wilson (step-father)
Professional Status
Profession
Student
Betsy Court is a Character in DEXTER. She was a teenager who is killed in Season Two. Betsy was born to an unnamed mother who went on to marry a man named Craig Wilson who became her step-father. Although they were family, Betsy and her new step-father didn't get along, as they fought constantly and kept screaming at each other. After she was killed while sunbathing, her step-father was the prime suspect in her murder but wasn't the killer. Dexter Morgan however used her death to drive a wedge between the police force and Sergeant James Doakes by framing Craig and later exonerating him while making James look bad. It is unknown if Betsy's real killer was caught or got away with the crime.
Ad blocker interference detected!
Wikia is a free-to-use site that makes money from advertising. We have a modified experience for viewers using ad blockers

Wikia is not accessible if you've made further modifications. Remove the custom ad blocker rule(s) and the page will load as expected.