Bertrand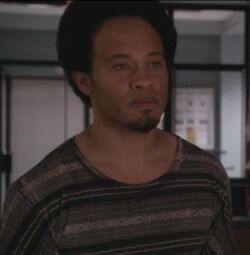 Character Profile
Portrayed By
Kiko Ellsworth
First Appearance
It's Alive!
Last Appearance
See-Through
Character
Full Name
Bertrand
Aliases
None
Status
Alive



Characteristics
Age
30s
Gender
Male
Eyes
Green
Hair
Black
Personal Status
Marital Status
Single



""You are one cold-hearted bitch, I'll tell you that." - Bertrand to Maria"

Bertrand was then-Lieutenant Esmée Pascal's fiance but while engaged he was having an affair with former Lieutenant Maria LaGuerta. 
Plot
While having an affair with LaGuerta, Esmee started to become increasingly agitated and suspicious of her fiance and started to become exceedingly jealous. In her emotional state, she began using the department's resources to investigate who he was sleeping with. Wasting police resources and slowing the whole department down by prioritizing her personal problems, Esmee was eventually removed from her position by Captain Matthews. With Esmee decommissioned and Maria reinstated, Maria breaks up with Bertrand immediately, much to his disgust.