Rebecca Mitchell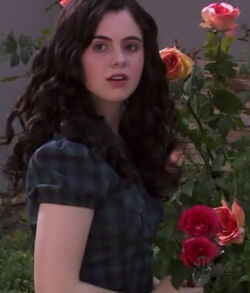 Character Profile
Portrayed By
Vanessa Marano
First Appearance
Dirty Harry
Last Appearance
Nebraska
Character
Full Name
Rebecca Mitchell
Nicknames
Vera
Becca
Status
Deceased
Manner of Death
Committed suicide
Characteristics
Age
15 (Season 4)
Gender
Female
Eyes
Brown
Hair
Black
Personal Status
Marital Status
Single
Immediate Relatives
Arthur Mitchell (father; deceased)
Sally Mitchell (mother; deceased)
Christine Hill (half-sister; deceased)
Jonah Mitchell (brother)
Henry Mitchell (grandfather; deceased)
Marsha Mitchell (grandmother; deceased)
Vera Mitchell (aunt; deceased)
Professional Status
Profession
Student
Rebecca Mitchell is a character in DEXTER. A girl cut off from the rest of the world at home, she is the daughter of Arthur Mitchell and Sally Mitchell while also being the younger sister to Jonah Mitchell. Because of the solitude forced on her by her father, she apparently lacks awareness of social norms, which leads her to inappropriately flirt with Dexter Morgan. Unfortunately she is just another victim in Arthur's madness, often referred to as "Vera Mitchell" rather than by her real name and treated so protectively just like Arthur wanted for his sister.
After Arthur's "disappearance", she and the family are put into protective custody and eventually move to Kearney, Nebraska where she is forced to live under the constant complaint of her deranged mother who blames both of her children for the way Arthur was. Her praise for Arthur and desire to be whisked away eventually drives Rebecca to suicide.
Season Four
Edit
Though she is a teenager her room resembles that of a young girl's. After running away once, Arthur now has locks on the outside of the door and on the windows. Arthur sometimes calls her "Vera", in the name of his deceased sister. When Dexter asks her about this and tries to console her, she asks him to take her away, implying she will give him sexual favors to do so (which Dexter flatly refuses). Becca refuses to believe that Dexter wants nothing from her. Upon catching Becca's advances on Dexter, her mother only cares about Arthur never finding out, despite her assumption that Dexter has/will have sex with her daughter.  Arthur does not appear to be nearly as physically abusive towards his daughter as he is towards his wife and son; he does not criticize her as often, calls her his 'perfect child' on occasion and frequently discusses her achievements with pride, as opposed to Jonah.  However, since he often locks her in and calling her by the wrong name, this may simply be part of his re-creation of his childhood; she clearly represents his sister Vera, whom he wishes to preserve and worship on a pedestal.  Arthur has still shown Becca physical violence when provoked, and although she loves him on some level, she is just as terrified of him as Sally and Jonah for the way he controls her.
Season Six
Edit
In Season Six, it is revealed that she, along with her mother, Sally Mitchell, were killed by "Trinity", despite his death at Dexter's hands.
Dexter believed it was her brother, Jonah. However it was not Jonah who killed Rebecca, her mother blamed the kids for what Arthur was. Becca finally had enough of it and killed herself in the bathtub in the same fashion that the Trinity Killer killed his bathtub victims, and Jonah lost his temper on his mother and killed her.
Strangely, it is never known to the Nebraska police department (Rebecca alongside her family lived in Nebraska at the time) if Rebecca really commited suicide, or they thought that she was a victim to Trinity (who is still investigated by the FBI). Judging by the picture, it does look like Rebecca commited suicide, and the Nebraska police department blood spattern analyst team should have found finger prints on the razer that rebbeca cut herself with. 
Coincidentally Rebecca and her half-sister Christine both comitted suicide 
Ad blocker interference detected!
Wikia is a free-to-use site that makes money from advertising. We have a modified experience for viewers using ad blockers

Wikia is not accessible if you've made further modifications. Remove the custom ad blocker rule(s) and the page will load as expected.