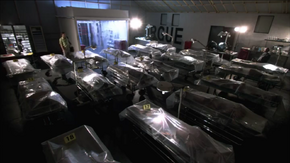 The
Bay Harbor Butcher 18
is the name given to eighteen recovered bodies from Bay Harbor that were killed by
Dexter Morgan
(a.k.a. The Bay Harbor Butcher). While Dexter has killed well over that amount, these are just the bodies that still remained at the bottom of the Bay.
The following people fall into this category:
Smith (Possibly the surname of a victim)
Orozco (Possibly the surname of a victim)
Four unknown bodies
Late in the investigation, Dexter's blood slides are found in the trunk of James Doakes' car. All eighteen of the victims listed here had blood slides taken.
Ad blocker interference detected!
Wikia is a free-to-use site that makes money from advertising. We have a modified experience for viewers using ad blockers

Wikia is not accessible if you've made further modifications. Remove the custom ad blocker rule(s) and the page will load as expected.