Barry Kurt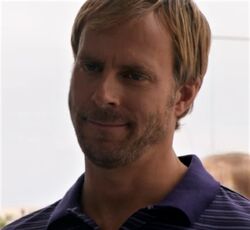 Barry Kurt is a character in DEXTER. He is an abusive man that dated Olivia's mother and in turn physically abused her daughter, until Dexter Morgan intervened.
Appearance
Barry is described as average height and build by Elliott Larson. He has short blonde hair and 5 o'clock shadow. He has blue eyes. It is also likely that he has several bruises on his stomach (like Olivia), from when Dexter beat him into leaving Olivia's mother to further prevent him from abusing Olivia.
Personality
Despite how calm he appears to be, Barry is said to freak out over things as simple as being slightly late to something. He expresses his anger by beating Olivia, his ex-girlfriend's daughter. Barry does not seem to be inherently intelligent, but is smart enough to strategically land his blows on Olivia.
Plot
Barry first appears in a gas station filling up his white-panel van. He is quickly arrested by Miami Metro Police Officers because he was mistakenly believed to have abducted Astor Bennett and her friend Olivia. When Barry is taken to the police station, Dexter confronts him as soon as he steps out of the squad car. Dexter threatens him, to which he reveals that he is Olivia's mother's boyfriend, stating that he tracked her cell phone to Dexter's house and came to retrieve her.
Barry is later in Episode 9 of Season 5 confronted by Dexter regarding the abuse. Dexter "persuades" Barry to break up with Olivia's mother and never return.
Astor comment that Barry called Olivia's Mother "a fat ass" the same name Dexter asked him to.