Arthur Bleek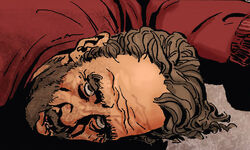 Character Profile
First Appearance
Dexter: Issue 1
Last Appearance
Dexter: Issue 2
Character
Full Name
Arthur Bleek



Status
Deceased



Characteristics
Age
48
Gender
Male
Hair
Brown
Personal Status
Marital Status
Unknown



Professional Status
Profession
Member of the New Hope Foundation
Arthur Bleek is a Character in the Dexter comic book series.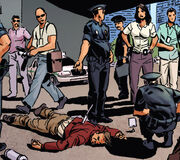 Arthur once lived on the streets, until he recovered from his low life and vices by been treated at the
New Hope Foundation
. He was stabbed on his back, which caused his death and at a glance the crime scene indicated he fell to the water. However upon examination, Dexter discovered he was killed elsewhere and then brought upon the water.
Deborah discovers Arthur Bleek was in fact an undercover Federal Agent, as a group of agents confiscate her work on the case and take her and the rest of Miami-Dade police off the case. Bleek was investigating Steve Gonzalez and was somehow discovered, which would be the reason of his death.
Appearances
Edit
Ad blocker interference detected!
Wikia is a free-to-use site that makes money from advertising. We have a modified experience for viewers using ad blockers

Wikia is not accessible if you've made further modifications. Remove the custom ad blocker rule(s) and the page will load as expected.