Angie Miller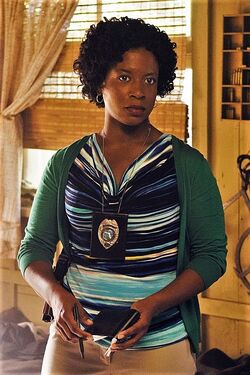 Character Profile
Portrayed By
Dana L. Wilson
First Appearance
Are You...?
Last Appearance
Monkey In a Box
Character
Full Name
Angie Miller



Status
Alive



Characteristics
Gender
Female
Eyes
Brown
Hair
Black
Personal Status
Marital Status
Divorced
Immediate Relatives
Two unnamed children
Professional Status
Profession
Sergeant with the Homicide Division
Sergeant Angie Miller is a Character on DEXTER. She is a Sergeant-Detective within Miami Metro Homicide that works alongside Detective Joey Quinn and Lieutenant Angel Batista in Homicide Investigations. She has some tension with resident pervert forensic-tech Vince Masuka, but only in the sense of being annoyed by his behavior.
Plot
Season Seven
She is first seen when Mike Anderson was shot and killed in the line of duty, and was one of the detectives investigating the shooting. She has since begun to fill the role as his replacement, but to a lesser degree. Angie remains in the background, speaking up only briefly on occasion at crime scenes.
Season Eight
Angie's role broadens, as she appears frequently at every crime scene and speaks on multiple occasions with the main cast. Following Angel Batista's promotion to Lieutenant after the death of Captain Maria LaGuerta and the resignation of Former-Lieutenant Debra Morgan, thus leaving his Sergeant-Detective position open. Two known candidates apply for the position, Miller and Detective Joey Quinn. While Quinn passes the Sergeant's exam, Batista picks Miller due to her "skills" and intelligence, as well as what Deputy-Chief Tom Matthews describes relating to her ethnicity (it would be good "PR" to have an African-American woman in the position).
Following her promotion, Miller seems to vanish and only reappears a few times at the Bicyclist Crimescene and at the bar after Evelyn Vogel's funeral.
Trivia
As of Episode 702: Sunshine and Frosty Swirl, she is shown only as a background character and is rarely seen on screen. 
Season Eight gives Angie a broader set of lines, making her appear closer to the main cast and she's even involved in a plotline of becoming a Sergeant-Detective to replace Batista's old position. After she gets the promotion over Quinn, she fades back into the background and has virtually no speaking roles, nor is she seen much at all.
She does not appear in the Finale, despite other common background detectives appearing.
References
Ad blocker interference detected!
Wikia is a free-to-use site that makes money from advertising. We have a modified experience for viewers using ad blockers

Wikia is not accessible if you've made further modifications. Remove the custom ad blocker rule(s) and the page will load as expected.