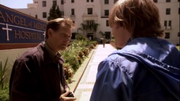 The
Angel of Mercy Hospital
is an abandoned hospital where
Harry Morgan'
s father worked as a Janitor, before "working his way up to Chief of Maintenance."
This is also where the Ice Truck Killer holds Tony Tucci hostage and performs live amputations on him, leaving the body parts in public places that are reminiscent of Dexter Morgan's childhood (such as Petrie Beach and the McCaffrey Pumpkin Patch).
Dexter soon finds Tucci in this building, abandoned, cut up and begging for a merciful death, but he decides to free him rather than end his life.
Ad blocker interference detected!
Wikia is a free-to-use site that makes money from advertising. We have a modified experience for viewers using ad blockers

Wikia is not accessible if you've made further modifications. Remove the custom ad blocker rule(s) and the page will load as expected.