Alberto
"He's robbing us and I have nothing to give ... I can give him Death " - Dexter to himself about Alberto.
Alberto is a character in DEXTER, introduced in the Season Six episode This is the Way the World Ends.
He, along with several other people, come across Dexter Morgan, who is adrift in the ocean. They pull him on deck, and they are all revealed to be immigrants, with Alberto as their "coyote" (similar to Jorge Castillo).
Plot
At first, Alberto doesn't seem to be hostile. But then, he pulls out a gun, and demands all on board to put anything of value into his hat. While Dexter realizes he has nothing to give him, Alberto comes across a pregnant woman who has nothing, and holds a gun to her head and her stomach.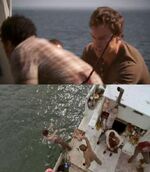 Seeing this, Dexter realizes there is something he can give him: Death. Dexter grabs a nearby harpoon, and plunges it into Alberto's stomach, throwing him and the harpoon into the ocean afterwards. Shortly after, Dexter and the rest of the immigrants swim to the shore.