Agent Hubbard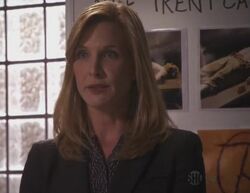 Character Profile
Portrayed By
Julie Lancaster
First Appearance
Talk to the Hand
Last Appearance
Talk to the Hand
Character
Full Name
Agent Brenda Hubbard
Nicknames
Amazon
(Vince Masuka)
Status
Alive
Characteristics
Age
40s
Gender
Female
Eyes
Blue
Hair
Blonde
Personal Status
Marital Status
N/A
Spouse
N/A
Immediate Relatives
N/A
Professional Status
Profession
Agent with Homeland Security
Agent Hubbard is a Character in DEXTER who is an Agent with Homeland Security.
Description
Agent Hubbard is a woman who appears to be in her late 30s to early 40s with long, blonde hair and bright blue eyes. She has a moderate skin tone and wears professional attire fitting of an agent, basically a feminine styled suit.
Personality
Agent Hubbard is a practical agent. She retains her professional personality concerning the importance of national security in her work. She understands, however, the discomfort that the police force has with agents and tries to reassure them that their involvement is only temporary. This remains true following the realization that the Dorseys were, in fact, not "terrorists" and she allows control to return to Miami Metro Homicide in the Doomsday Killer Investigation.
Summary
Agent Hubbard arrived at the Miami Metro Police Department following an attack by Wormwood. She was stated to appear within the hour, due to the development of the biological materials required to create Wormwood on the boat named Ricochet Rabbit. However, the attack by Beth Dorsey occurred just before this interview. It caused an instant insertion of Homeland Security into the Doomsday Killer Investigation.
According to Hubbard, she understands the worries of Miami Metro Homicide and stated that they are only "temporarily" taking over the Doomsday Killer Investigation to find out all known associations of Steve Dorsey and Beth Dorsey. Regardless, the team felt uneasy with the feds getting involved in this case and disliked cooperating with them.
Trivia
Agent Hubbard is the newest Federal Agent to appear in the series, fitting with the current theme that in every "even" Season the FBI or some government agency becomes involved in a case.