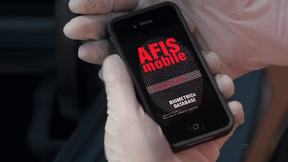 The Automated Fingerprint Identification System (AFIS) is a biometric identification (ID) methodology that uses digital imaging technology to obtain, store, and analyze fingerprint data. An AFIS portable application is used by Dexter to perform scanning of fingerprints at crime scenes, by somehow using his cellphone's camera to do the work.
According to the way he uses the application, the surface where the fingerprint is must be flat. In instances where it is not, Dexter powders the print and places a transparent sticker-like band over the surface to get a sample of the print and then puts the band over a flat surface and then scans it, as seen on Season 7's premiere "Are you...?".
References
Edit
Ad blocker interference detected!
Wikia is a free-to-use site that makes money from advertising. We have a modified experience for viewers using ad blockers

Wikia is not accessible if you've made further modifications. Remove the custom ad blocker rule(s) and the page will load as expected.